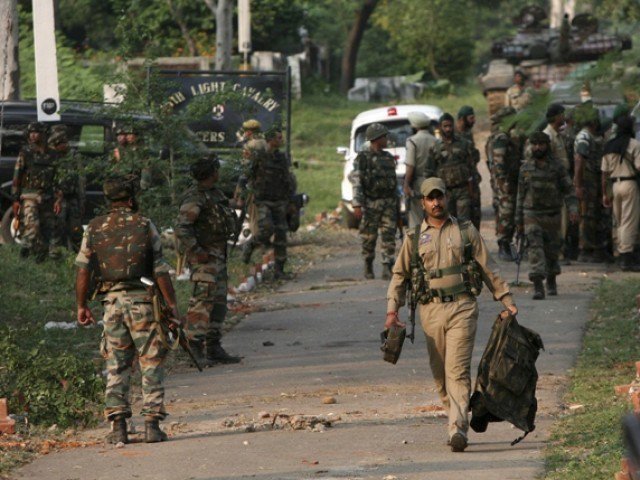 ---
ISLAMABAD: In its preliminary findings based on the dossier shared by India, Islamabad has found 'no evidence' of linking the February 14 suicide bombing in Pulwama with Pakistan, a senior official here revealed on Wednesday.

"We have conducted preliminary investigations based on the Indian dossier and till now we have not come up with any evidence linking Pakistan or any individual or entity with the Pulwama attack," the official, who was privy to the development, told The Express Tribune.

The official, however, said Pakistan was still willing to cooperate with India if it had any additional information regarding the Pulwama attack.

The preliminary findings were shared with India through its High Commissioner in Islamabad on Wednesday by Foreign Secretary Tehmina Janjua.

"The Government of Pakistan has shared preliminary findings with the Government of India after examining the Indian report on Pulwama incident," said a statement issued by the foreign office.

It said the Indian High Commissioner in Islamabad was called to the Ministry of Foreign Affairs by the Foreign Secretary and the findings on the Pulwama incident were shared with him.

The statement noted that Pakistan had acted with "a high sense of responsibility" and extended full cooperation.

"We do so in the interest of regional peace and security. We have sought further information/evidence from India to take the process forward," it said.

Earlier, the Prime Minister of Pakistan had offered cooperation in investigation if credible evidence was provided by India. In response to this offer, a paper was handed over to Pakistan on February 27.

The Pulwama attack, which killed over 40 officials of India Central Reserve Police Force (CRPF), brought Pakistan and India close to a war after New Delhi accused banned Jaish-e-Mohammad for being behind the suicide bombing.

Within days of the attack, Indian fighter jets violated Pakistan's air space and dropped bombs in Balakot. New Delhi claimed it targeted the so-called terrorist camps of JeM, a claim not only rebutted by Islamabad but also by international media and other independent organizations.

Pakistan responded and launched air strikes the next day. Its fighter jets dropped missiles in the open space in order to convey a message to India that Pakistan had the will and capacity to hit back.

The two neighbours were almost on the brink of a war when Pakistani fighter jets shot down two Indian warplanes in a dogfight. One of the Indian pilots, who ejected the downed plane, was captured.

However, as a gesture of peace, Prime Minister Imran Khan decided to return Wing Commander Abhinandan within 72 hours of his capture.

Pakistan opposes weaponisation of outer space

Meanwhile, Pakistan on Wednesday asserted that it remains a strong proponent of the United Nations resolution on Prevention of Arms Race in Outer Space.

The statement comes after India tested an anti-satellite weapon, claiming the indigenously produced interceptor was used to destroy an object in the orbit.

Such a weapon allows for attacks on enemy satellites – blinding them or disrupting communications – as well as providing a technology base for intercepting ballistic missiles.

The Foreign Office, responding to media questions on the matter, said Pakistan believed there was a need to address gaps "in the international space laws with a view to ensuring that no one threatens peaceful activities and applications of space technologies for socio-economic development".

"Space is the common heritage of mankind and every nation has the responsibility to avoid actions which can lead to the militarisation of this arena," said the FO.

"We hope that countries which have in the past strongly condemned demonstration of similar capabilities by others will be prepared to work towards developing international instruments to prevent military threats relating to outer space."

Taking a jibe at Indian Prime Minister Narendra Modi who hailed the anti-satellite test as a major breakthrough in its space programme, the FO spokesperson quipped that "boasting of such capabilities is reminiscent of Don Quixote's tilting against windmills," referring to the protagonist of the 17th century Spanish novel by Miguel de Cervantes, who rallied against imaginary giants.

Modi had termed the feat an unprecedented achievement for New Delhi.

The draft treaty submitted by Russia at the Conference of Disarmament (CD) in 2008 proposed that state parties would commit to refraining from placing objects carrying any type of weapon into orbit, installing weapons on celestial bodies, and threatening to use force against objects in outer space. They would also agree to practice agreed confidence-building measures.

The treaty prevents any nation from gaining a military advantage in outer space.