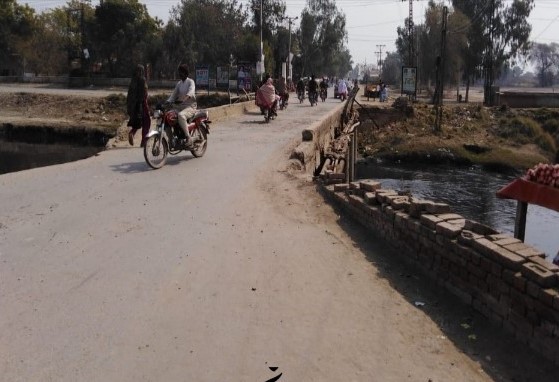 ---
FAISALABAD:

A bridge, constructed over a canal in Tandlianwala tehsil's Mamu Kanjan city, has been without railings for the past several months.

The precarious state of the facility has led to several mishaps, causing severe injuries to commuters and pedestrians, Express News reported.

A survey of the spot revealed that the bridge, built over Seem Canal, lacks railings on both sides. Besides, the width of the bridge is not sufficient for vehicles to pass from opposite directions without great difficulty.

In addition, the bridge, built several years ago, is in dire need of repairs and maintenance. However, the district administration seems least interested in carrying the necessary work.

Locals likened the pathway to a death trap as several people have suffered injuries or lost their lives after falling into the canal.

They mentioned that the situation gets worse at night when visibility is low. The locals highlighted that in a recent incident, a donkey-cart carrying sugar fell into the canal. In this case, the victim managed to escape with minor injuries.

Similarly, they revealed that a man identified as Abdul Qayyum, a resident of Riazabad vicinity, suffered critical injuries when his two-wheeler fell into the canal at night due to low visibility.

Rustam Shabbir, a resident of Rafiqabad, said, "I travel to my shop through this bridge daily and have escaped narrowly accidents on several occasions. This is a threat or life and the government should take steps to address the matter."

Another citizen, Hamid Sher, said that the road on the bridge was not wide enough. "Two vehicles coming from opposite sides cannot pass with ease and one has to give way to the other," he highlighted.

He complained that commuters have to risk their lives to cross the canal. "I don't understand why the government and district administration is not taking the matter seriously?" he asked.

Meanwhile, people have urged authorities to address the issue at the earliest. They demanded protective walls should be built on both sides of the bridge, while lights should be installed on it to facilitate commuters travelling at night.
COMMENTS
Comments are moderated and generally will be posted if they are on-topic and not abusive.
For more information, please see our Comments FAQ