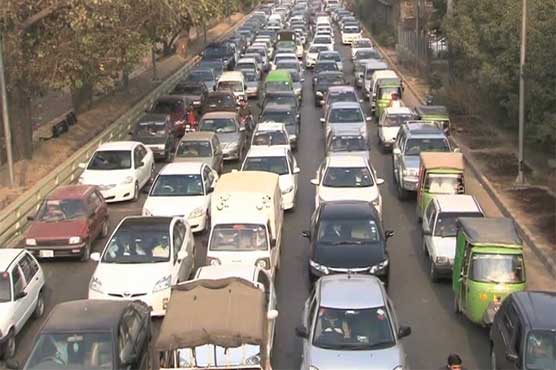 ---
LAHORE: Owning multiple expensive cars has long been a status symbol in Pakistan. But what was once just an upper-class indulgence has now trickled down to the country's growing middle class.

While it may sound harmless – after all should everyone not be able to buy what they want? – the trend is one of the main causes of chaotic traffic in urban Pakistan, particularly metropolises like Lahore.

Long queues of vehicles stacked bumper-to-bumper in Lahore not only waste residents' time but also make routes unnecessarily long. To top it off, the cost of travelling and environmental pollution have also surged to dangerous levels.

Poor public transport has also exacerbated the situation, making it more convenient for families to purchase more than one car. This is most evident right after the final bell rings in the city's schools as private school vans and cars head to pick up students.

In many countries, governments have made it mandatory for schoolchildren to commute via designated school buses. In Pakistan, however, no such system exists and many households, particularly upper class ones, even have separate cars just for their children.

For the past two decades, provincial governments have failed to increase public transportation in line with the growing population and build more roads to accommodate the growing number of vehicles.

A government report compiling data for the last 20 years shows that while private transport rose by 332%, public transport increased by only 165% and road networks by a mere 6%. According to the Economic Survey of Pakistan, the national thoroughfare only increased from 249,972km in 2001 to 268,935km after 19 years.

Meanwhile there has been a record increase in the number of cars purchased in Pakistan, particularly in Punjab. In 2010, the Punjab Excise Department had roughly a million registered non-commercial cars. Now, however, the figure has risen to 1.74 million, with around 100,000 new cars added each year.

According to the Statistics Department of Pakistan, the number of non-commercial registered cars rose from 1.37 million in 2006 to 2.9 million presently.

There are over 43,000 government schools and colleges and over 30,000 private schools in Punjab. Every day, scores of private vehicles responsible for picking up and dropping off schoolchildren flood the roads between 7-8 am and 1-2 pm, disrupting the traffic flow as  vehicles move at snail's pace on major thoroughfares.

Many schools charge thousands of rupees in fees but none have a school bus service. Many well off parents, meanwhile, consider sending their children to school in expensive cars a matter of pride and look down upon the use of public transport.

Lahore, which according to the census of 2017 has a population of 11.12 million, currently has 400 buses working under LTC and Metro bus authority, out of which many vehicles are non-operational. The number of wagons, on the other hand, is 650 which the citizens are forced to board on and use for their journeys.

In contrast, the number of auto rickshaws in Lahore is 82,000, while the number of motorcycle rickshaws has crossed the 65,000. Apart from traffic problems, these vehicles also increase noise and other pollution.

According to a report by the State Bank of Pakistan, in the 2017-2018 fiscal year, commercial banks provided loans worth Rs47.8 billion to consumers, Rs31 billion of which was meant to help people buy cars.

The increase in the number of vehicles has naturally also increased usage of petrol and diesel. Research suggests traveling in a personal car is 47% more expensive than public transport.

Talking to The Express Tribune, Punjab Transport Minister Jahanzaib Khan Khichi complained the province's past governments had not taken any realistic steps to improve transport in Lahore and other cities.

"The Lahore, Rawalpindi and Multan metro bus projects were undertaken for vested interests and many technical defects were ignored by the authorities," he said. "The PTI government is preparing a project to improve the transport system in the province and make it public friendly."

Shedding light on the absence of school buses in the city, the Punjab Education Minister Dr Murad Rass urged educational institutions that charge high school fees to start a school bus service. "A school bus service is not being initiated at the moment but the Punjab government will soon be coming up with a project called 'Insaf afternoon education' under which deserving students in 22 cities of Punjab will be provided bicycles to commute to school,"he said.

When approached, Head of Lahore Traffic Police Captain (retd) Malik Liaquat Ali said that motorisation is being curbed the world over and the purchase of new vehicles has even been banned in many cities.

"There is a need to stop this trend as the capacity of the roads to accommodate more cars has already been fully utilised," he said. "If schools introduce their bus services in Lahore, it will help resolve the crazy traffic situation caused during school hours every day," he concluded.