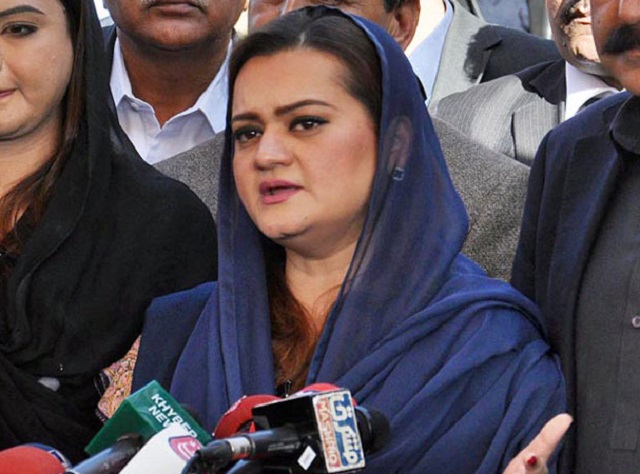 ---
Pakistan Muslim League-Nawaz (PML-N) central spokesperson Marriyum Aurangzeb said on Monday Prime Minister Imran Khan talked about "NRO" to hide his government's massive failures and to "blackmail the opposition" so that they would not expose him.

Reacting to Khan's statement regarding the Gen Pervez Musharraf-era amnesty – National Reconciliation Ordinance (NRO) – Aurangzeb said that Prime Minister Khan wanted a face-saving and an easy way out of the crisis he created himself but the opposition would not let him become a political martyr.

"The people of Pakistan are witnessing your monstrous failures one after the other and you'll find yourself on top of the container by the will of the people," Aurangzeb, the former information minister during the previous PML-N government, said.

She said that Prime Minister Khan had nothing to say other than the Sharif brothers, when he was in opposition. "He now has nothing to do but to obsess and be in their constant fear that he is the so-called Prime Minister," she added.

The PML-N spokesperson alleged that Khan's sense of insecurity was increasing because of the growing opposition alliances. "After stooping to new lows every week by politicising Nawaz Sharif's health issues, Imran Niazi has now started trying to influence the honorable courts out of frustration," she alleged.

"The entire country is crying out loud against your terrible policies that have made impossible for the people to survive through honest means. Your deceits and lies have no audience anymore, your NRO rant has been rejected by the people and has become a laughing stock among the Pakistanis", she said.

On the contrary, she accused the prime minister of "gifting the NRO" to former party leader Jahangir Tareen and his sister Aleema Khan. She also accused the prime minister of inaugurating projects launched by "PML-N leaders and then spewing lies and venom against them with a straight face".

Aurangzeb said that Khan should apologise to the nation for "ordering fake enrolment in Khyber Pakhtunkhwa schools, for the 3,000 billion rupee record debt in eight months, record decrease in revenue collection and the plummeting national growth rate under his PTI government".
COMMENTS
Comments are moderated and generally will be posted if they are on-topic and not abusive.
For more information, please see our Comments FAQ