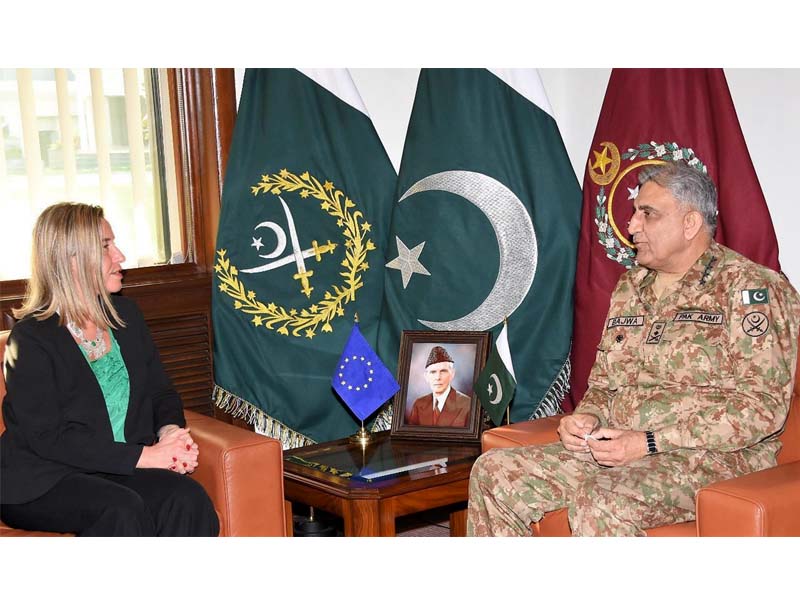 ---
European Union (EU) envoy Federica Mogherini appreciated Pakistan's efforts and the positive role being played for regional peace and stability in a meeting with Chief of Army Staff (COAS) General Qamar Javed Bajwa at GHQ in Rawalpindi on Monday.

Mogherini, the High Representative of the EU for Foreign Affairs and Security Policy who also serves as the Vice President of the European Commission, is currently on an official visit to Pakistan.

During the meeting, matters of mutual interest and overall regional security situation were also discussed, said a statement issued by the Inter-Services Public Relations (ISPR).

Pakistan seals strategic engagement plan with EU

Earlier in the day, an EU delegation led by Mogherini met Pakistani officials at the Foreign Office in Islamabad, where a strategic engagement plan aimed at promoting durable economic development was finalised between the two parties.

The engagement plan lays particular emphasis on partnerships in the fields of trade, investment and energy.

Later addressing a joint press conference with Foreign Minister Shah Mahmood Qureshi, the EU foreign policy chief hailed Pakistan's progress towards democratic stability and the reforms agenda of the Pakistan Tehreek-e-Insaf (PTI) led government.