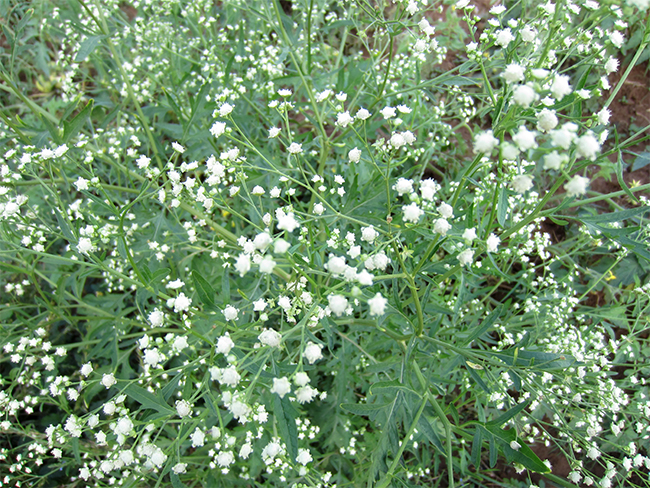 ---
FAISALABAD: Invasive species are threatening biological diversity and globally pose a huge threat to economic activities, such as agriculture, development and tourism.

More than half of the world's food comes from three crops - wheat, maize and rice. According to the Centre for Agriculture and Biosciences International (CABI), it is estimated that these crops alone suffer yield losses of 16% due to invasive weeds, costing approximately $96 billion annually.

Research has revealed that there are about 480,000 invasive species in different ecosystems across the world. Each year, the damage caused by invasive species costs in excess of $1.4 trillion worldwide, representing almost 5% of the global economy.

Unfortunately, the geographic spread and impact of invasive species is growing rapidly due to climate change, tourism and trade. Africa has recently suffered the menace of one particularly damaging invasive species – the Fall Armyworm, which attacks maize and other crops.

With over 200 million people in Africa relying on maize as their staple crop, the high yield losses recorded have had a clear impact on food security.

A recent CABI evidence note stated that this year Ghana reported 26.6% and Zambia 35% yield losses. The recent arrival of Fall Armyworm in India and its predicted rapid spread across parts of Asia poses a risk to yields here too. Right now, in Pakistan we are being affected by an invasive species called Parthenium – a weed commonly known as 'Gajar Booti' and now recognised as a major threat with impact on human health, biodiversity, agriculture, livestock and food security.

Parthenium is native to South and Central America, but over decades it has spread to over 40 countries – including Pakistan, India, Sri Lanka, Australia, South Africa, Swaziland and Ethiopia. It has achieved major weed status in all these countries.

Parthenium is almost 1-2-metre tall, branched plant emerging as a threat weed having potential to deter the germination of native flora and ability to displace existing weeds. It causes skin rashes, watery eyes, swelling, itching of membranes of mouth and nose, constant coughing, especially at night and respiratory problems have also been reported.

It was an important weed in Lahore, Sialkot and northern Punjab in the previous decade, but now it has invaded most of the canal-irrigated districts in the command areas of Ravi and Chenab rivers. Northeastern districts are more prone to this menace. However, with the exceptions of a few, the command areas of Jhelum and Indus rivers are still mainly free of this weed.

In recent years, it has spread all over Punjab and Khyber-Pakhtunkhwa (K-P) with variable degree of infestation in sugarcane, cotton, gardens, vegetables and other crops, especially of spring and summer.

General public remains unaware

However, somewhat surprisingly, the general public remains oblivious to its dangers. Nestled within its small white flowers, the Parthenium plant can look quite beautiful, especially in flower bouquets and decorations (a practice that is contributing to its countrywide seed dispersal).

Parthenium is an extremely prolific seed producer as it has the capacity to produce up to 25,000 seeds per plant in isolated cases. Moreover, given suitable moisture levels, seeds can germinate at any time of the year and can remain viable for a long time, surviving even under very harsh environmental conditions. Pakistan's climate is suitable for Parthenium throughout the year – making the weed prolific.

Parthenium manipulates the ecology of fields, affects the yield of crops and invades forests through its aggressive nature and gigantic allelopathic potential. Allelopathic plants release chemical compounds from their roots into the soil, which suppress or even kill surrounding plants.

In addition, Parthenium is highly allergenic; its pollen can cause asthma, eye irritation, throat infections and eczema. In livestock, it causes mouth ulcers in animals that consume the weed, which can result in deteriorating milk quality and tainting of meat.

Invasive species disproportionately affect vulnerable communities in rural areas, especially in developing countries, which mainly depend on a healthy ecosystem, natural resources, agriculture, tourism and trade. For a country like Pakistan, with 60% of the economy dependent on agriculture, this issue is incredibly serious and requires serious action.

Presently, Parthenium is not only affecting crop fields and reducing yields, it is also invading green belts within towns and cities and outcompeting native fauna. However, for now at least, the problem is still within the bounds of control.

How to control the weed

Organisations like CABI have been active in working with Pakistan's agriculture departments, reaching out to both rural and urban communities by organising workshops for farmers and conducting awareness campaigns. These activities provide information about the identification and management of Parthenium as well as knowledge on the dangers of this weed.

The aim is to change the perception of Parthenium and control the weed. Additionally, CABI has been researching options for the biological control of Parthenium using its natural enemies, without the need for herbicides.

The research is currently looking at a beetle, Zygogramma bicolorata, which feeds on the leaves of Parthenium as well as a range of other species. The beetle is already being used to control Parthenium in Australia, South Africa, Ethiopia and Tanzania and studies have revealed that Zygogramma is already present in northern Punjab, K-P and Kashmir.

Researchers from the University of Manchester have also collaborated with CABI using space technology to tackle Parthenium with remote sensing in Pakistan.

By monitoring Parthenium in crops using satellite imaging, the project aims to quantify the spread on a large scale, particularly in remote areas, in order to create evidence-based control strategies. The project works with local stakeholders including Comsats University, the National University of Sciences and Technology, Ayub Agricultural Research Institute, Pakistan Agricultural Research Council, PMAS Arid Agriculture University, Institute of Space Technology and agriculture extension and regional crop departments of Punjab and K-P.

Bringing together key decision-makers from various sectors, creates a more universal approach, increasing the likelihood of controlling other invasive species in future.

Researchers fear that Parthenium could have a similarly devastating impact in Pakistan as that of the Fall Armyworm in Africa and stress that government bodies must take appropriate initiatives to control this weed.

Instant initiatives must be taken to educate farmers and the general public on the methods of controlling Parthenium. With support from the government, CABI's programme can facilitate better and sustainable management of invasive species, ultimately helping Pakistan prosper.

Tackling invasive species like Parthenium is critical for achieving widespread economic prosperity and combating poverty, therefore, governments must commit to reducing the economic impact of invasive species.

Abid Mahmood is the Director General Agriculture (Research), Ayub Agricultural Research Institute (AARI), Faisalabad whereas Muhammad Ashiq is the Assistant Agronomist, Plant Physiology Section, Agronomic Research Institute, AARI

Published in The Express Tribune, March 25th, 2019.

Like Business on Facebook, follow @TribuneBiz on Twitter to stay informed and join in the conversation.


COMMENTS
Comments are moderated and generally will be posted if they are on-topic and not abusive.
For more information, please see our Comments FAQ