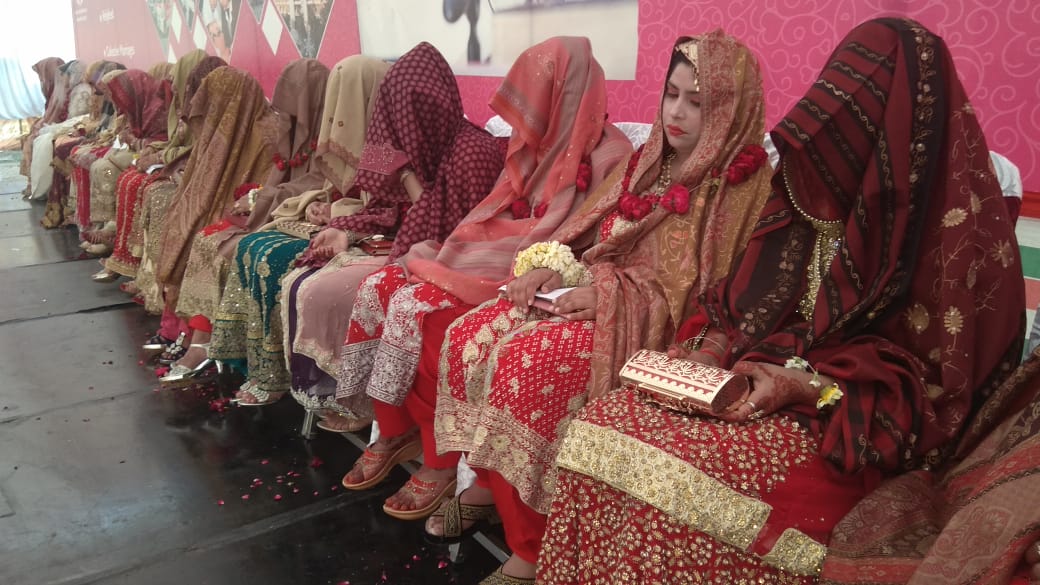 ---
LAHORE: Twenty three couples tied the knot at a mass wedding ceremony in Model Town on Sunday. The mass wedding ceremony was organised by a local non-government organisation (NGO).

Apart from gifts, the couples were also given a dowry and things for everyday use worth Rs0.2 million. This was the 16th such ceremony organised by the NGO. Around 23 girls, including 22 Muslims and a Christian, were married off during the ceremony.

The marriage rites of the couples were solemnised according to their respective religions. One of the brides said that she was the eldest of five sisters and that her father had passed away.

My mother was always worried about my future as we do not have a brother, she stated. With tears in her eyes, she revealed that she was missing her father on this important day.

One of the grooms Mohammad Faisal, who hails from Jhang, said that the rest of the wedding ceremonies will be performed at home. Hundreds of people attended the mass wedding ceremony.

Minhaj Welfare Foundation Head Syed Amjad stated that this is the 16th such mass wedding ceremony the NGO has organised. So far, the organisation has arranged marriage ceremonies for 2,700 deserving and underprivileged girls.

He revealed that apart from wedding gifts, the couples were also given a dowry and stuff for everyday use worth Rs0.2 million. Various committees are formed to organise the mass wedding ceremonies. "The most difficult task in organising such events is preparing the dowry which includes furniture and other things for everyday use," he maintained.

The registrations for the wedding ceremony were completed around six months ago. There is no discrimination regarding caste or religion when selecting girls. Our priority is to choose those who have been orphaned and are needy, he said.

Each couple is allowed to bring 25 guests with them, he added.

The grooms and their entourage were welcomed by a musical band and a shower of flower petals during the ceremony. Food had also been arranged for the guests who attended the ceremony. Apart from the couples' family members, Punjab Health Minister Dr Yasmeen Rashid, Punjab Human Rights Minister Ejaz Alam Augustine and other officials and social workers also attended the ceremony.