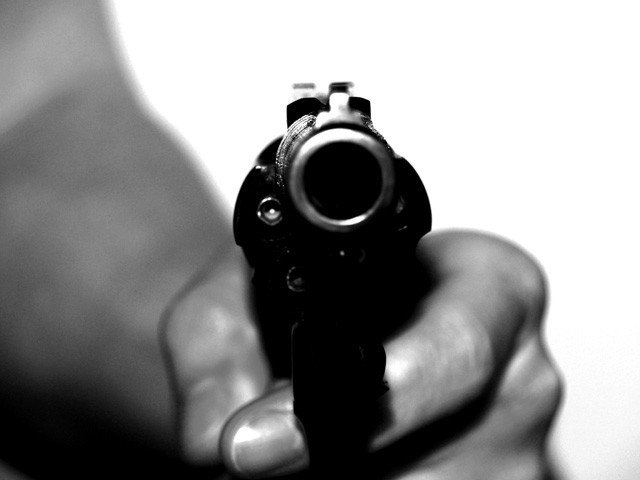 ---
LAHORE: A man was shot dead on in Ravi Road area while two others received bullet injuries. The condition of one of the injured was stated to be critical.

Police said a man was shot dead while two others were injured just for staring at men who were toting guns in the broad daylight. The victims identified as Akbar Mitho, Taj Mohammad and Mohammad Akbar along with their family members were waiting for a bus. Suddenly, they noticed the unidentified suspects who were carrying weapons and were displaying them publicly. The victims looked towards them and this infuriated the suspects. The suspects moved towards them, abused them and opened indiscriminate fire. Resultantly, three men suffered bullet injuries. They were shifted to Lahore Mayo Hospital where doctors pronounced Akhtar dead on arrival. Taj was under treatment in a critical condition as he had suffered severe bullet injury. A bullet had pierced into his back and crossed from the abdomen. Akbar's condition was stated to be stable as he had suffered an injury on his leg.

A family member of the victim said they had no enmity with anyone. It was a random attack on them that supposedly was provoked just by looking at the armed men. She said they had returned after visiting their aunt in Begum Kot and were waiting for a ride to take them to their home in Kot Lakhpat. The suspects approached and shot at them. She demanded immediate action and justice.

A police team reached the spot on information and shifted the body to the morgue for autopsy.

Gun culture has claimed scores of lives in Pakistan. In 2015, Mustafa Kanju, the son of a former minister, along with his guards had shot dead a teenager and injured another on a petty issue. He was infuriated after a vehicle had touched his luxury car in Cavalry Ground area. In Karachi, Shahzeb was shot dead in a similar fashion by Shah Rukh Jatoi, other accused persons in compliance with their guards. The victim had tried to stop the accused from harassing his sister who was going to be married in a couple of hours.

The gun culture has also claimed many lives in Lahore. A few days back, three men, including a teenage boy were killed in Daroghawala. In 2018, five members of a family were shot dead in Phularwan Village. On March 15 this year, a man had shot dead at least 50 people in Christchurch mosques in New Zealand.

The Punjab government had imposed a strict ban on illegal weapons, aerial firing and the public display of arms. However, recurrent violation of all these offenses was reported in the province as well in the provincial capital.


COMMENTS
Comments are moderated and generally will be posted if they are on-topic and not abusive.
For more information, please see our Comments FAQ