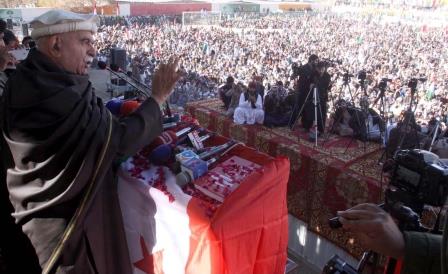 ---
Pashtunkhwa Milli Awami Party (PkMAP) provincial secretary and member of the Balochistan Assembly Nasrullah Khan Zayray participated in a high-level conference on the China-Pakistan Economic Corridor (CPEC) in Beijing a few days ago.

In his address on Sunday, Nasrullah Khan said that the PkMAP was in favour of friendly relations with China and other neighbouring countries and that, in line with the country's foreign policy, it also supported the five principles aimed at mutual co-existence.

He said his party wanted to see peace and stability in the region as well as work towards development and regional trade and emphasized that the Pashtun Baloch were key stakeholders representing both Balochistan and Khyber Pakhtunkhwa in the China Pakistan Economic Corridor (CPEC) project with major CPEC international and regional centres being located in Gwadar and Quetta.

He also pointed out the significance of Balochistan's geographical location, saying that it was the shortest route connecting western China with the Indian Ocean and the Arabian Sea besides connecting Gwadar with central Asia through Afghanistan.

This western route, he said, was shorter than the so-called eastern route which also had the disadvantage of being impacted by monsoon rains and subsequent floods in the summers and smog and mist in the winters, thus making the western route a better alternative for all seasons which did not carry the risk of fog and floods.

Additionally, the lawmaker emphasized that the western route carried another major advantage in that it would enable the country to build new population centres and thus reduce the burden on big cities.The western route would also promote a positive image of China, he said.

The provincial lawmaker also highlighted the fact that Balochistan would also likely serve as a key business centre for regional trade given the province's wealth in natural resources including coal, copper, gold, chromite and other precious metals, as well as its extensive coastal belt spanning 750 kilometres.

He also asserted that peace in Pakistan, including in Balochistan, depended on the attainment of peace within Afghanistan and that the full benefit of CPEC could not be derived unless terrorism were eliminated in Pakistan.