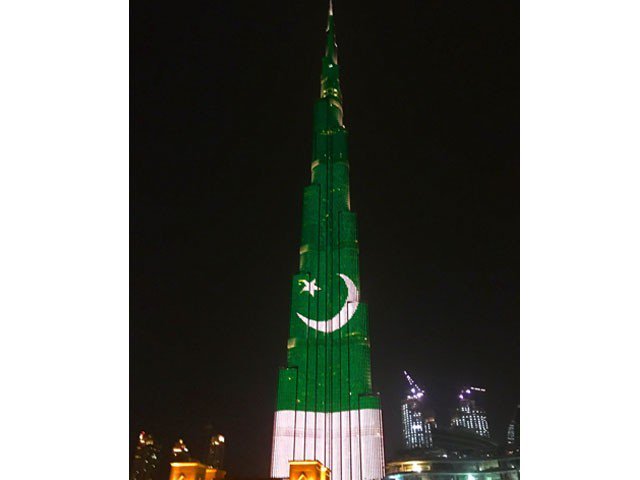 ---
Burj Khalifa, the tallest and most famous skyscraper in the world, lit up with the colours of Pakistani national flag to mark the Pakistan Day celebrations on Saturday.

According to Khaleej Times, the dazzling display of the Pakistani flag on Burj Khalifa on Saturday night took place during two time slots – first at 7.45pm and second at 9pm.




On March 23, Pakistani nation across the world marks the historic Lahore Resolution of 1940 with renewed vigour vowing to work to see the country prosper.




In pictures: Nation marks Pakistan Day with traditional pomp, gusto

To celebrate the occasion, the Pakistan Day military parade was held in Islamabad with  top civil and military leaders and a large number of foreign dignitaries.




The special guest of honour, Malaysian Prime Minister Mahathir Mohamad, was also present at the parade, along with President Dr Arif Alvi, Prime Minister Imran Khan, Chairman Joint Chiefs of Staff Committee General Zubair Mehmood Hayat including the three services chiefs.




Minister of Defence of the Republic of Azerbaijan Colonel General Zakir Hasanov, Commander National Guard of Bahrain Sheikh Mohamed Bin Isa Bin Salman Al Khalifa, and government officials from Oman were also in attendance.