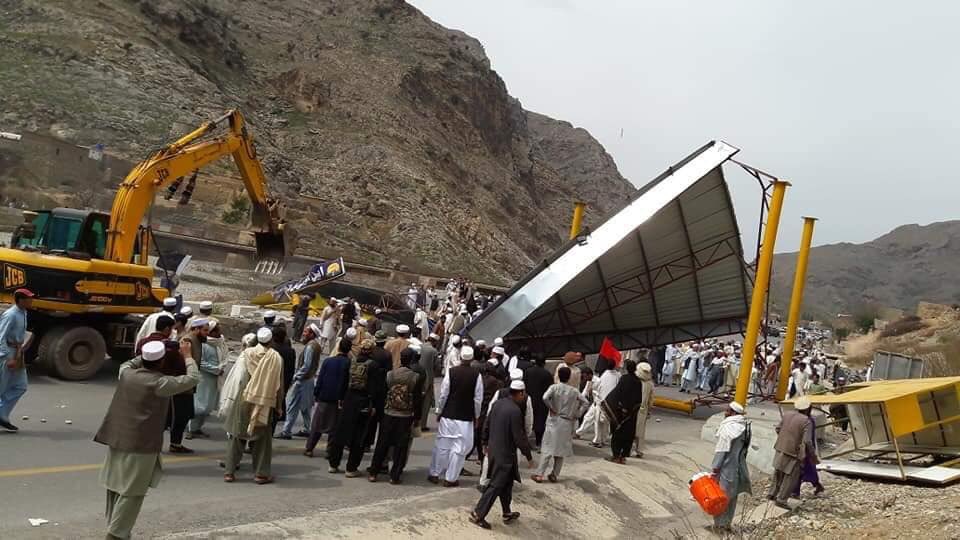 ---
LANDI KOTAL: A large number of tribesmen on Saturday staged a protest at Landi Kotal tehsil of Khyber District against the merger of the tribal areas with Khyber Pakhtunkhwa. The protesters also razed a toll plaza on the Pakistan-Afghanistan highway.

Hundreds of people rallying under the banner of Raddul Inzimam or the 'anti-merger' movement demanded that the former Federally Administered Tribal Areas (Fata) be declared a separate province rather than a part of the K-P so that the tribal traditions and culture could be protected.

Former federal environment minister Hameedullah Jan Afridi and the Jamiat-e-Ulema-e-Islam (JUI-F) Khyber district general secretary Maulana Shamsuddin Afridi led the march.

Jan said the seven tribal districts had been merged with K-P as part of a foreign agenda, adding that the tribal people had faced an enormous setback due to the merger.

"We have lost our identity; our tribal traditions are in danger; taxation and police force Acts have been extended to the areas and the National Logistic Corps (NLC) has stopped our trade with Afghanistan. The government has jeopardized the livelihoods of thousands of tribal youth," Jan added.

He demanded that the internally displaced persons (IDPs) of the Tirah valley be repatriated to their respective areas. "Our properties, forest and mineral resources should be run under the patronage of the local people, not the NLC or any other security forces," he said.

He warned that the people of the former Fata would revolt against the forcibly imposed changes in the tribal districts. "We will not tolerate the forced merger process, which is not endorsed by the tribal people. We demand a separate province to secure our rights and resources in the tribal areas."

Symbol of taxation razed

During the Raddul Inzimam rally, the protesters also razed a toll plaza built by the National Highway Authority in the Khata Khashta area of Landi Kotal along the Pakistan-Afghan highway.

The demolition did not seem to be a spontaneous act of mob violence as they had come prepared with heavy machinery including an excavator and bulldozer.

Hundreds of protesters reached Katha Khashta with demolition machinery and razed the toll-plaza within an hour. Talking to The Express Tribune, the protesters said they were promised a tax-free status for a number of years after the merger but the government had started charging a toll tax.

They said they had registered their reservations and held peaceful protests for several days but the civil and military authorities had turned a deaf ear to their demands prompting them to take extreme measures.

"We were promised tax exemption by the federal and provincial governments for a period of five years but a road tax has been levied on us in the second quarter of the merger. Various taxes have also been imposed on our factories," said protester Abdul Waheed Afridi.
COMMENTS (2)
Comments are moderated and generally will be posted if they are on-topic and not abusive.
For more information, please see our Comments FAQ