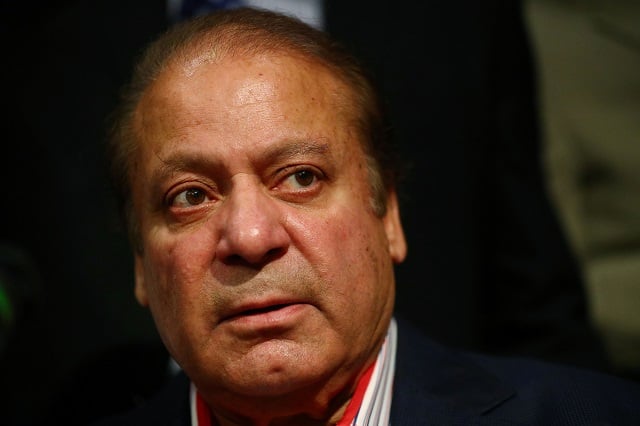 ---
LAHORE: The Pakistan Muslim League-Nawaz's (PML-N) central leader Maryam Nawaz on Saturday met her father and former premier Nawaz Sharif along with Nawaz's personal physician Dr Adnan Khan at Lahore's Kot Lakhpat Jail to inquire about the PML-N supreme leader's health.

Nawaz Sharif, incarcerated at the prison since December, 2018 after his conviction in a corruption case, has been suffering from various health problems. The apex court last week also reserved its verdict on a petition seeking his bail on health grounds.

On Saturday, Maryam and Dr Adnan came to the prison after receiving permission from the interior ministry. Hundreds of PML-N workers, who had gathered outside the Kot Lakhpat prison prior to Maryam's arrival, chanted party slogans when she reached the prison.

The workers later started removing obstacles placed outside the prison building upon which the police and jail security asked Maryam Nawaz to disperse them or she would not be allowed to see her father. The workers subsequently retreated on her instruction.

The party activists also stopped a passenger train by blocking a nearby track, mounting the engine and shouting slogans in favour of their leader. Slogans were also raised against Railways Minister Sheikh Rasheed Ahmed, causing fear among the train's passengers.

Later, the police reached the scene and the train left for its destination after they had cleared the track. The Kot Lakhpat police filed a case against the workers for stopping the train. According to the police, the workers will be identified through videos and arrested.

Maryam and Dr Adnan met Nawaz Sharif for two hours. Nawaz informed them that his blood samples had been taken and he had been informed about the reports. He also told them about his kidney ailment.

After meeting her father, Maryam took to Twitter and wrote that Nawaz Sharif's kidney disease had worsened. She termed the reports on the blood samples taken a day earlier as serious, adding that the former premier's kidney disease had reached the third stage and he felt pain in his arm.


Just got back after meeting MNS. His doctor's concern was not unfounded. The blood tests done yesterday reveal a further raise in his CREATININE levels which means his kidney function has deteriorated. His kidney disease is already at stage 3. The pain in the flanks persists. pic.twitter.com/5kdSLKxjTG

— Maryam Nawaz Sharif (@MaryamNSharif) March 23, 2019


In another tweet, Maryam said a letter had been written to the additional chief secretary to request him for a medical specialist to be sent to jail to diagnose Nawaz's disease and treat the problem in the presence of his personal physician.


In view of deterioration of MNS's renal function, authorities are arranging for a specialist to examine/evaluate him at the jail today. Presence of MNS's personal physician during the examination is vital. A written request to the Home Office in this regard has been dispatched. pic.twitter.com/zwgvIdOVPD

— Maryam Nawaz Sharif (@MaryamNSharif) March 23, 2019
COMMENTS (1)
Comments are moderated and generally will be posted if they are on-topic and not abusive.
For more information, please see our Comments FAQ