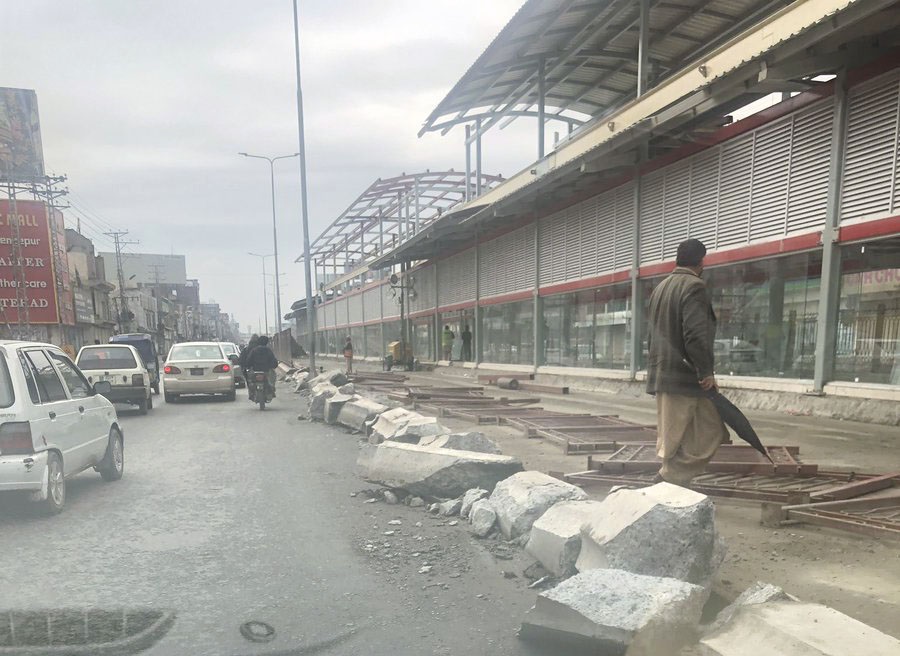 ---
PESHAWAR: Chief Minister Mahmood Khan has directed the provincial inspection team to carry out an inquiry to ascertain the causes the delay of Bus Rapid Transit Project (BRT) Peshawar.

He further directed to furnish a comprehensive report fixing responsibilities so that the government could initiate action against those responsible for the delay.

These directives, he gave while taking notice of the incompletion of the BRT and falling short of the timelines given for the completion of BRT. The CM asked the provincial inspection team to investigate the matter and identify the reasons for the falling short of the datelines. This was a pro-poor project launched to find a durable solution to the long standings traffic problems. The delay inconvenienced the common man which was not acceptable and directed for an early and quality construction and completion of the project.

Meanwhile, CM Mahmood approved a new postings and transfers policy for elementary and secondary education throughout the province. The new mechanism is meant to discourage unnecessary postings and transfers making the teachers responsible to both their dedicated and allocated responsibilities for the quality education.

He said that PTI government would never compromise on the future of children. It made a number of decisions for the quality education which would be further improved. He was presiding over a high level meeting for the new policy of postings and transfers in the elementary and secondary education at Chief Minister House Peshawar. Provincial Minister Akbar Ayub Khan, Special Assistant to CM on Elementary and Secondary Education Zia Ullah Bangash and Secretary Education Arshad Khan attended the meeting.

The Chief Minister said that education will continue to be the priority area of his government.  His government would take all out steps to remove weaknesses in the system. It provided everything that was missing for the last seven decades. Thousands of teachers have been recruited, curricula reconciled with the new and modern needs and infrastructure expended to considerable level. He said his government discouraged absenteeism of teachers and formed independent monitoring unit and took all efforts for the improvement of education. He said that the steps taken for the reforms in education sectors started giving results and the people trust restored in public sector education institutions. He said that process of reforms will continue and there will be a check and balance mechanism to achieve the targets in education sector, he concluded.

Published in The Express Tribune, March 24th, 2019.
COMMENTS (1)
Comments are moderated and generally will be posted if they are on-topic and not abusive.
For more information, please see our Comments FAQ