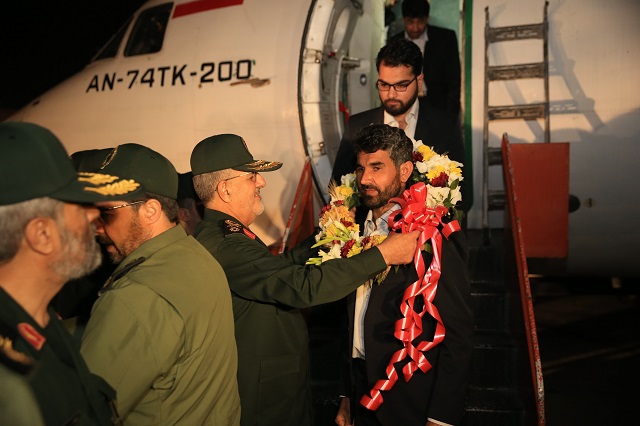 ---
TEHRAN: The four Iranian border guards rescued by the Pakistan military from militants returned on Friday to Tehran to a hero's welcome, state television reported.

Live footage showed the soldiers dressed in suits stepping off an Antonov 74 transport aircraft and welcomed by their commander, Brigadier General Mohammad Pakpour who heads the Revolutionary Guards ground forces.

The Inter-Services Public Relations (ISPR) said in a statement on Thursday that the security forces conducted an intelligence operation (IBO) at Amori in the Chaghai district of Balochistan, about three to four kilometres from the Pakistan-Afghanistan border.

Pakistan security forces recover 4 kidnapped Iranian soldiers




"Terrorists of the proscribed organisation were reported to have entered Pakistan from Afghanistan side along with abducted Iranian soldiers," the ISPR statement said. "After an exchange of fire four Iranian soldiers recovered from a transitioning hideout," it added.

"I am happy that these soldiers are returning to their families at the beginning of the new (Iranian) year, but I am also saddened that the remaining soldiers are still in captivity," Pakpour told state television.
The families of the remaining soldiers should rest assured, Pakpour added, that "we will do what is necessary to free them as well".

At least 12 Iranian security personnel, including members of the Revolutionary Guards, were kidnapped on the border with Pakistan last year in October.

Five of them were safely recovered a month after the abduction.
COMMENTS
Comments are moderated and generally will be posted if they are on-topic and not abusive.
For more information, please see our Comments FAQ