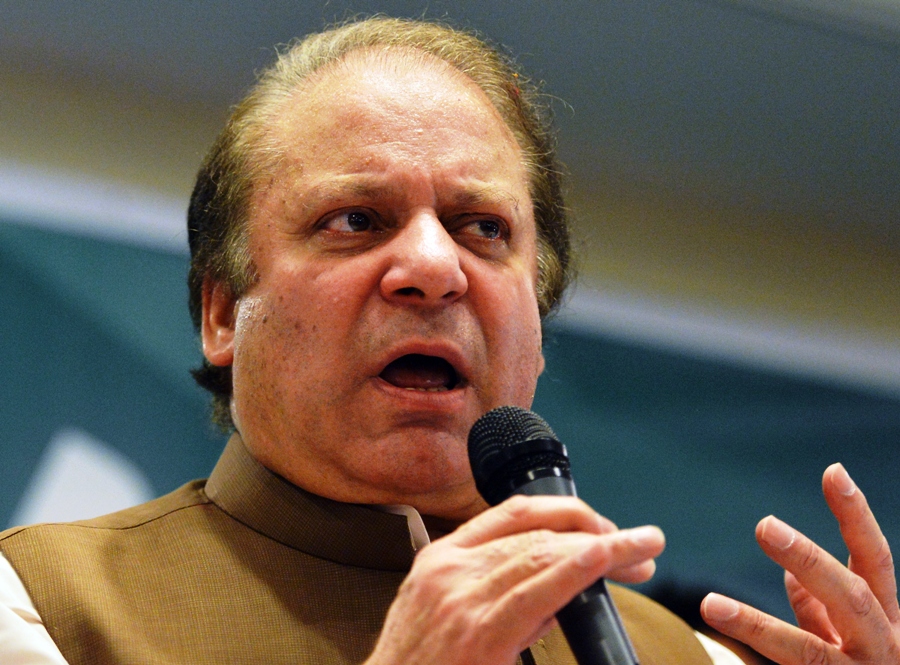 ---
KARACHI: Punjab government spokesperson Dr Shahbaz Gill has alleged that "politics" over the health of incarcerated former prime minister Nawaz Sharif was being done "to sabotage the celebrations of Pakistan Day on March 23".

In a video message uploaded on his official Twitter handle, Gill termed the recent tweets of Maryam Nawaz over her father's health "propaganda and baseless".


ڈاکٹرزکے مطابق میاں صاحب کی طبیعت ٹھیک ہے
ضروریی ٹیسٹس لیے جا رہے ہیں، ہسپتال جانا چاہیں تو پہلے دن سے آفر موجود ہے
یوم پاکستان پر عوام کو گمراہ نہ کریں
جیل کے باہر دھرنے میں حسن ،حسین نواز تو نہیں آئیں گے لیکن آپکا یہ بھائی سہولت دینے ضرور آئے گا https://t.co/wj4ezjOcDW

— Dr. Shahbaz GiLL (@SHABAZGIL) March 22, 2019


"Why is there hue and cry over Nawaz Sharif's health ahead of March 23 despite the fact that the government is providing every possible best medical treatment to the former prime minister," the provincial spokesperson questioned.

In response to Maryam's warning of holding a sit-in outside Kot Lakhpat jail, where the three-time prime minister is imprisoned, Gill urged the PML-N leader to celebrate Pakistan Day instead of creating an atmosphere of uncertainty.


If his renal functions are not checked for any further deterioration & if his doctor & I are not allowed access to him, I will go and stand outside the jail tomorrow till the access is granted. https://t.co/UXj6ibe4VZ

— Maryam Nawaz Sharif (@MaryamNSharif) March 22, 2019


The spokesperson refuted reports that Sharif's health was deteriorating in prison, and that he was not being provided with adequate medical aid.

Doctors, he said, visit Sharif twice a day and a cardio health unit has also been set up in the jail to look after his health.

The provincial government spokesperson also rejected Maryam's claim that her father was experiencing pain in his kidneys. "Doctors visited Sharif but he did not complain of any pain," he said.


MNS had pain in the flanks. His kidney disease is at stage 3 & the dr suspects the pain to be of renal origin. His Urea & Creatinine levels MUST be checked. His doctor who I sent to examine MNS was made to wait 2 hrs outside jail, was not allowed in & sent back.

— Maryam Nawaz Sharif (@MaryamNSharif) March 22, 2019


Meanwhile, Opposition Leader in the National Assembly Shehbaz Sharif also expressed concern over the health of his elder brother, and called for authorities to allow Sharif's physician to meet him in the Lahore prison.


Just received this message from Dr. Adnan, physician of Mian sahib. This is extremely heartless & inhumane attitude of the government. NO COMPROMISE on his health. Concerned authorities MUST take note of it. They will face the consequences if God forbid anything happens to him! pic.twitter.com/e7KsTsnXdv

— Shehbaz Sharif (@CMShehbaz) March 22, 2019


The PML-N has accused the PTI-led government of intentionally denying medical facilities to the former prime minister.

The deposed prime minister, who is suffering from heart related illness, has so refused medical treatment in government hospital citing "disdainful behaviour" of the authorities.

Sharif was sentenced to seven-year rigorous imprisonment after being found guilty in Al-Azizia reference, one of the three graft cases filed by the National Accountability Bureau in line with the Supreme Court's 2017 Panama Papers judgement.

The nation will celebrate Pakistan Day on Saturday with traditional zeal and a renewed commitment to work hard for the progress and prosperity of the motherland.

The day is observed on March 23 every year to commemorate the passage of Lahore Resolution on this day in 1940 when the Muslims of the sub-continent set the agenda of a separate homeland for themselves

Malaysian Prime Minister Mahathir Mohamad, who arrived in Islamabad on Thursday on a three-day official visit, will be the chief guest on the occasion.