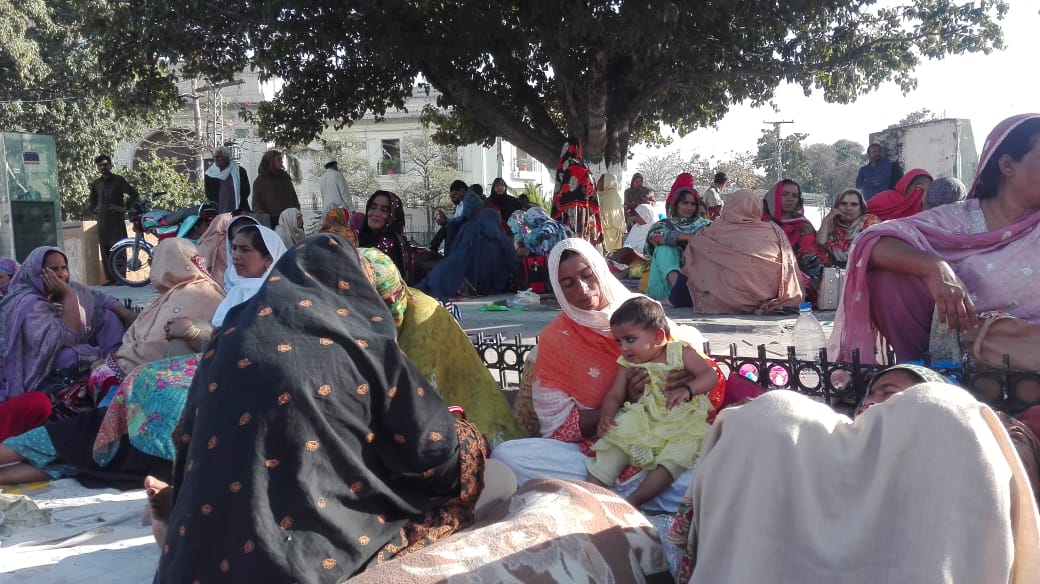 ---
LAHORE: Equipped with lodging and cooking stuff, the Lady Health Workers (LHWs) continued their sit-in in favour of their demands in front of Punjab Assembly for the fourth consecutive day.

The protesters vividly announced not to leave the venue till a notification of the acceptance of their demands was not issued. They had brought with them lodging, gas cylinders, utensils and stoves. They were also carrying their children with them.

On Thursday, Punjab Law Minister Raja Basharat and Deputy Inspector General of Police Waqas Nazir held a meeting with a delegation of the protesters. Basharat promised them of getting issued a notification by approval from the Punjab chief minister.

The leader of the protesters Rukhsana Anwar, while describing the demands of LHWs, said the programme was started in 1992. In 2008, they submitted applications for regularisations to different government dignitaries including the prime minister of Pakistan. However, no action was taken on which they resorted to protests. In March 26, 2012, LHWs were regularised after nationwide protests. Though they have been regularised there was no service structure for them. Because of its absence, they were unable to get other privileges including pension.

In the absence of a proper service structure, the LHWs were unable to get financial benefits including pension and jobs on the government quota. She said their pay scale had not been upgraded since 2012. She said they demanded that the pay scale of drivers was raised from BPS-4 to BPS-6, lady health workers from BPS-5 to BPS-7 and supervisors from BPS-10 BPS-14.

She condemned Punjab Health Minister Yasmeen Rashid's behavior and terming it awkward. She claimed the minister was lying by claiming LHWs demands have been accepted. "It's not true. If our demands had been accepted, then why we would have continued staging a sit-in on the fourth consecutive day?"

She said the governments had changed but their behavior towards workers was the same. She also termed the change of the government merely a change of tags. She resolved to keep on fighting till their last breath for their demands.

The protest caused traffic congestion in most part of the city. Mall Road is a major artery of the city. Its blockade affected the traffic flow on Mall and adjacent roads. Besides, it also hosts important government offices and commercial areas including WAPDA House, Governor House, Alhamra Hall, 90-Shahra, Lahore Zoo, CCPO Office, Lahore High Court, State Bank of Pakistan, GPO, DCO Office, Panorama Shopping Center and Hall Road Electronic Market. A large number of commuters use the road to travel. The blockage led to congestion on adjacent roads including Cooper Road, Ferzpur Road and Queens Road.

The City Traffic Police Lahore (CTPL) deployed an extra contingent of wardens to maintain the flow of traffic. They also held diversions on the roads leading towards protest site.

A protester alleged that their arrears had also not been paid except for one installment. Another said the government asked them to achieve certain targets like three deliveries in one month which was unfair.

Minor incidents of scuffle and exchange of harsh words with the commuters were also reported. However, overall the sit-in has been very peaceful.

A 10-member delegation of Lady Health Workers Association held a meeting with Deputy Inspector General Operations Police Lahore (DIG) Waqas Nazir. The delegation was led by LHWs Association President Rukhsana Anwar. Other members included Naseem Khan, Asma Masood, Rashid Saed Chaudhry, Shazia Arshad, Ghulam Khadija, Shamshad Akhtar, Abdul Qadeer and Abdul Rasheed. SP Civil Lines Safdar Raza Kazmi, Health Additional DG Dr Muhammad Younsas, assistant commissioner, Member of National Assembly (MNA) Ahmad Hassan and other government officials were also present on the occasion.

Spokesman for the DIG said Nazir listened to the problems of the protesters and also spoke to Punjab Law Minister Raja Basharat. He arranged a meeting at the Punjab Assembly Committee Room for negotiations.