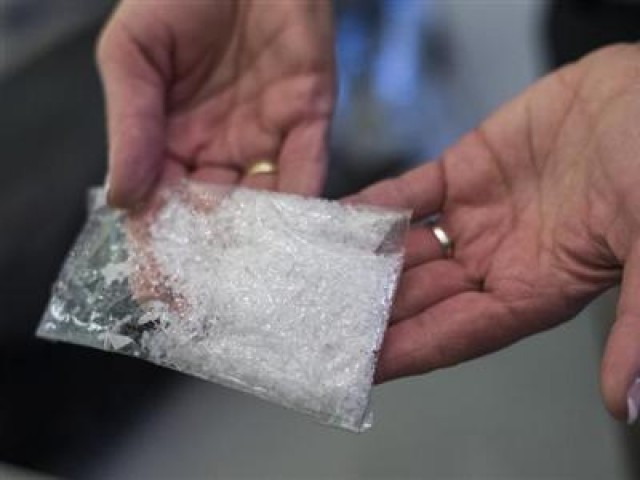 ---
RAWALPINDI: In what is a major bust, mail and customs authorities in Rawalpindi have foiled an attempt to smuggle a large quantity of the synthetic psychoactive drug Ecstasy from the Netherlands worth Rs7 million

The drugs are believed to be destined for college and school going students in the federal capital.

The drugs were caught by the International Mail office in Rawalpindi with assistance from the Customs. Officials of the international mail office termed the bust as the biggest recovery in their history.

International Mail Office Superintendent Tariq Pervaiz said that they had received a tip-off from an informer about the smuggling attempt. At this, they inspected a suspected parcel weighing some nine kilogrammes. Inside they found bags of pills.  Customs Inspector Shabana Naveed said that the cost of a single pill of ecstasy was around Rs3,000. She added that there were around 25,000 pills in the package.

Naveed recalled that a similar smuggling attempt had been made in the past as well but its quantity was not as large as this haul.

The parcel had been booked from Holland and was slated to be delivered to an address in Islamabad. Officials said that they will be registering a case against the receiver.

Moreover, International Mail Office officials said that they will now approach the Dutch embassy to identify the suspect who sent these pills.

ASF makes major ice bust

The Airport Security Force (ASF) at the Islamabad International Airport (IIA) on Thursday foiled a major attempt to smuggle drugs out of the country, recovering 1.4 kilogrammes of crystal methamphetamines (ice).

According to Customs officials, a passenger Atif, who hails from the Swabi, arrived at the airport to take a flight of a private airliner to Saudi Arabia.

ASF officials expressed doubt over the bag of sweets that he had in his luggage. They checked the bag and discovered drugs after concealed in the packets. 

Published in The Express Tribune, March 22nd, 2019.