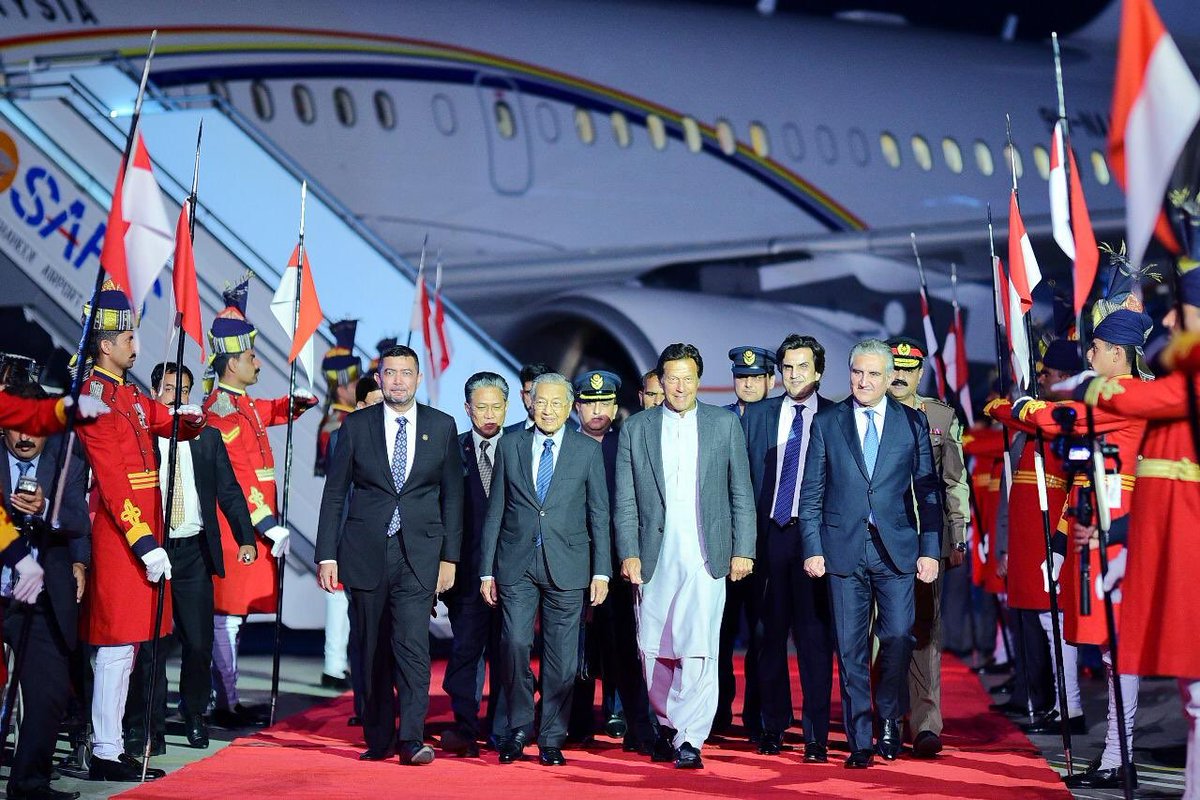 ---
ISLAMABAD: Malaysian Prime Minister Dr Mahathir Mohamad arrived in Islamabad on Thursday for a three-day official visit to Pakistan. Dr Mohamad is visiting Pakistan at the invitation of Prime Minister Imran Khan and will attend the Pakistan Day parade on Saturday (tomorrow) as the chief guest.

Dr Mohamad, who is accompanied by a high-level delegation, was received at the Nur Khan airbase by Prime Minister Khan, Foreign Minister Shah Mahmood Qureshi and Planning and Development Minister Khusro Bakhtiar. He was given a 21-gun salute upon his arrival.

In a statement, Foreign Office Spokesperson Dr Muhammad Faisal said focus of Dr Mohamad's visit was on enhancing economic, trade, investment and defence. The visit, he added, would improve the brotherly and friendly relations between the two countries.

The visit largely aimed at enhancing business-to-business contacts and using them for Pakistan's outreach to ASEAN (the Association of Southeast Asian Nations), Razak Dawood, Adviser to Prime Minister on Commerce, told a press conference in Islamabad.

During the visit, he said, businessmen from the two countries would sign $800 million worth of memorandums of understanding (MoUs) in the areas of "telecommunication, technology, automobiles and halal food".

Dawood said Pakistan wanted to increase its outreach to the far-eastern countries through Malaysia, because the country looked to change its 'China-centric' economic policies. "We believe Malaysia will be an opening for us to the ASEAN countries," he said.

Dawood, who had been critical of the China-Pakistan Economic Corridor (CPEC) projects in past, told a press conference hours before arrival of Prime Minister Mahathir Mohamad that the time had come for Pakistan to look towards other Asian nations.

"Pakistan was China-centric during past five years and there was China, China and China in everything," Dawood said, adding that China had helped Pakistan address bottlenecks in power and infrastructure sectors but "we have to learn how to keep relations with other countries as well." He, however, acknowledged that Pakistan hugely benefited from the Chinese investment.

Dawood said that Pakistan wanted to use connections of the Malaysian businessmen to get access to ASEAN. In return, the adviser said, Malaysia would get access to the Central Asian states via Pakistan. "Our policy is to reach out to Far East Asia through Malaysia," he added.

ASEAN is a market of 651 million people with a combined gross domestic product (GDP) of approximately $3 trillion and a high human capital development index, according to the Board of Investment.

Statistics of State Bank of Pakistan showed that Pakistan received $1.6 billion foreign direct investment (FDI) during July-February period of the current fiscal year and 55% of it came only from China alone.

Dawood said that there was a hope that CPEC would supplement the FDI in Pakistan but due to a preferential treatment given to the Chinese investors, the investment from other countries declined massively in the past five years.

When asked about Prime Minister Mohamad's decision to cancel some of the Chinese projects due to their high cost, Dawood said that every country had its own dynamics and "cancellation of Chinese investment deals by Malaysia does not mean that Pakistan will also follow the suit".

Speaking on the occasion, Board of Investment (BoI) Chairman Haroon Sharif said incentives to be offered to Chinese investors in the second phase of CPEC implementation, would also be available to investors from other countries.

"The purpose is to provide a level-playing field to all the foreign investors, Sharif told reporters. Responding to a question, Sharif said that the tax benefits that had been given to the Chinese investors in infrastructure and energy sectors were a thing of the past.

Defence analysts believe that it was unlikely that Pakistan would shift away from China because of strategic nature of the bilateral ties as well as their defence cooperation. China is also becoming a major supplier of defence equipment to Pakistan, they added.
COMMENTS
Comments are moderated and generally will be posted if they are on-topic and not abusive.
For more information, please see our Comments FAQ