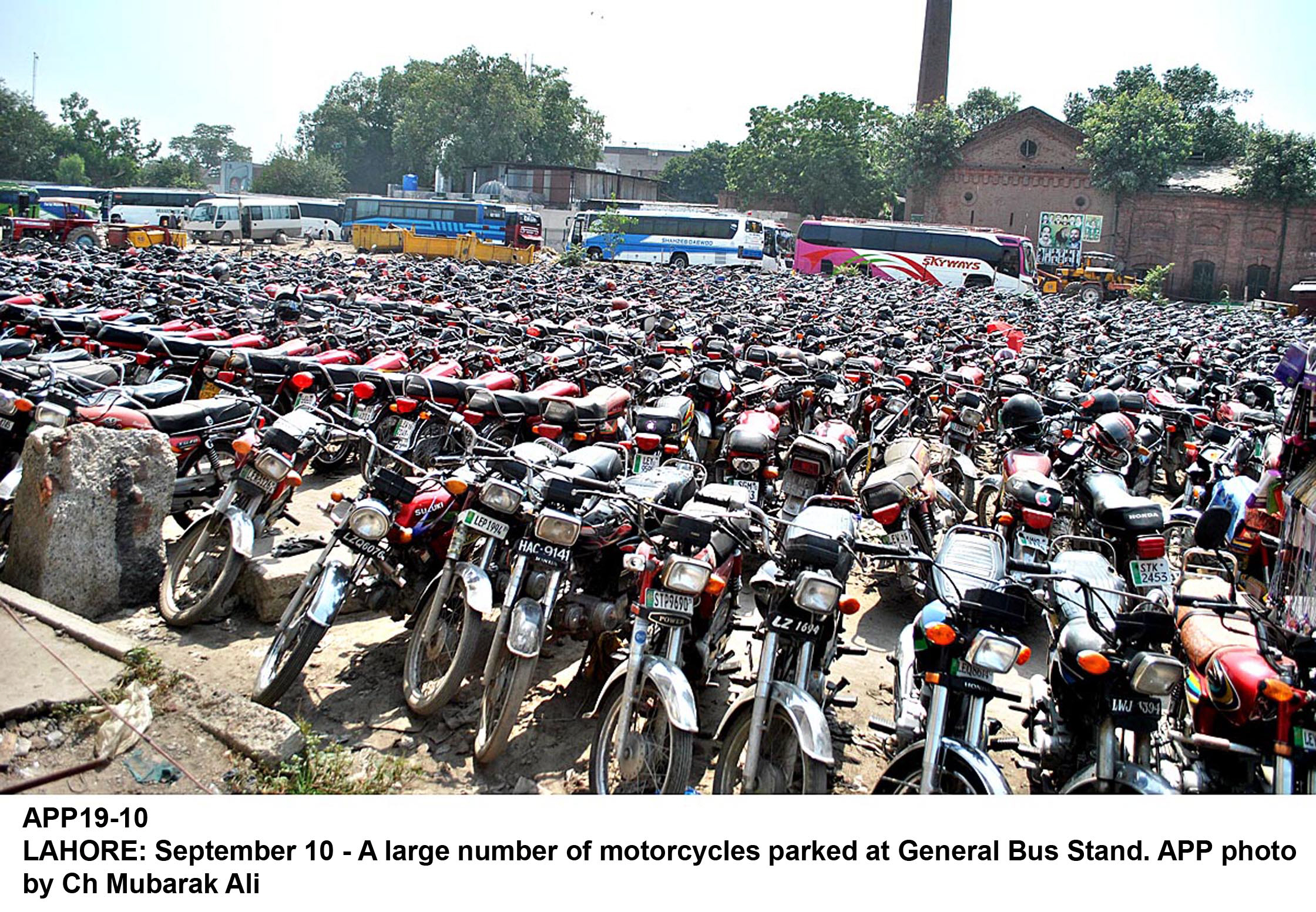 ---
LAHORE: The streets of Punjab are failing to keep pace with the ever-increasing number of motorcycles on the roads. The number of registered motorcycles in the province has gone past 15.7 million, while the total number of cars is 1.7 million. There are nine motorcycles for every car on the street, increasing traffic problems. Of the roughly 500 traffic accidents that take place on Punjab's roads every day, around 400 involve motorcycles.

In 2010, the number of registered motorcycles in Punjab was 5.23 million, which increased three-fold and now stood at 15.7 million by the end of 2018, while the number of cars in Punjab has gone from 1.01 million in 2010 to 1.73 million in 2018.

Part of the reason for this rapid increase is the mistrust of parents in public transport. The availability of cheap, locally-made motorcycles on instalments has also led to an increase in the number of university, and even underage college students using bikes and creating difficulties for traffic police as they slithering between cars on the narrowest of streets.

The price of imported motorcycles varies from as little as Rs70,000 to millions of rupees for high-end brands, while locally-made motorcycles go for as little as Rs40,000. Business is booming in terms of low-end sales as companies and resellers are offering bikes to people on instalments of as little as Rs50 to Rs100 per day, which lower-income workers such as day labourers are greatly benefitting from.

Traffic issues in Pakistan's biggest province are also being blamed for increasing road rage and stress, both of which become quality of life issues for law-abiding drivers.

Rescue 1122 Director General Dr Rizwan Naseer says that more than 530 road incidents are reported in Punjab every day, of which 430 involve motorcyclists. "Most of the motorcyclists are very young," he said, adding that most of the people killed in road incidents are also motorcyclists. Dr Naseer said substandard motorbikes, youngsters driving motorcycles without proper training or licences, and failing to use helmets are among the biggest causes of road accidents. "Due to the negligence of parents, children below 12 years of age can also be seen riding motorcycles. They are putting their own lives and those of others in danger," he added.

Lahore City Traffic Officer SSP Captain (retd) Liaquat Ali said that motorcycles are a big factor in the disturbance in traffic flow. Motorcycles far outnumber cars and are preferred by younger commuters he said, adding that the sale of bikes on instalments has also increased the number of motorcycles on the road.

He said the traffic police had tested some possible solutions, but bikers are not being helpful. "We initially tried making a lane for motorcyclists so that bikers don't drift across the streets and hinder the flow of traffic. But you can examine any intersection. Motorcyclists don't stick to the bike lanes and ride wherever they want," he said.

We cannot deploy a warden on every street and intersection. Some responsibility lies on the people as well to abide by the law, he said. "If a warden stops a biker, they pick fights with them…women riding with them starts abusing wardens and yet responsibility for [anything going wrong] is laid on the warden. Last year, motorcycle riders physically assaulted 312 wardens," he explained.

In more than 70 per cent of cases, motorcycles lack rearview mirrors, or their back and front lights don't work, which is why most accidents occur at night, he said. The traffic police have organised seminars in schools and colleges on traffic discipline for more than five million people during the last six months, he said, adding that the police have few options left if parents don't start disciplining their children and abide by the rules themselves.

Punjab Safe City Authority (SCA) Chief Operating Officer Akbar Nasir Khan said PSCA cameras are playing a pivotal role in the enforcement of rules and regulations and curbing the street crimes. "Up till now, PSCA has issued more than 8 million traffic e-challans, but further work and a new strategy is needed regarding motorcyclists because most of them don't submit their e-challans," he lamented, adding that it is clear through the safe city monitoring that motorcyclists commit the most traffic infractions.

On many motorcycles, Khan said, computerised number plates are either not installed, are broken, or a fancy plate is installed instead, due to which identification through cameras becomes impossible. He said that motorcycles are the most common transportation used in terrorism and other criminal cases, which is why it is necessary for a strategy to be devised to bar the use of motorcycles without computerised number plates.

Punjab Excise and Taxation Director General Akram Gondal said only 15 million motorcycles are registered with the department, of which at least 12 million are in regular use on the streets. He said that in the past six months, the number of motorcycles has seen a significant increase, adding that although all newly-registered motorcycles are provided computerised number plates on the spot, over 5 million bikes are on the roads for which computerised number plates have not been collected by the owners. "We have told people countless times through media that it is their responsibility to get computerised number plates.
COMMENTS
Comments are moderated and generally will be posted if they are on-topic and not abusive.
For more information, please see our Comments FAQ