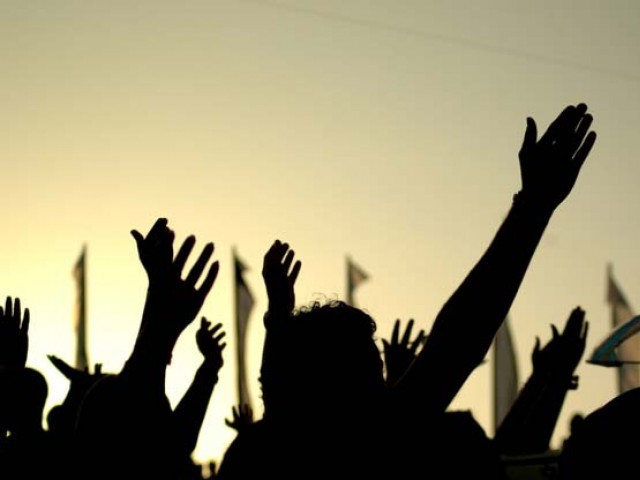 ---
LAHORE: Lady Health Workers (LHWs) continued their sit-in outside the Punjab Assembly for a second consecutive day on Tuesday.

They vowed not to budge till a notification in favour of their demands was not issued. Their charter included the upgradation of the pay scales of lady health workers, supervisors and drivers. It also asked to lift the ban on recruitment of LHW and the restoration of their induction.

The LHWs demanded a proper service structure for their jobs. They complained of not being given any service structure and there was no preference afforded to education and experience. The protesters added that only a portion of their arrears had been settled by the government.

Talking to The Express Tribune, a protester said the LHWs were regularised in 2012, but their pay scale had not upgraded since then. "The government has asked us to achieve certain goals, such as three deliveries in one month, and it does not seem fair," she said.

The protesters also said they had the status of permanent employees, but no access to of pension and other pricks and privileges. They also bemoaned that no representative from the government had approached them thus far.

"When PTI was in opposition, their leaders would join our protests and distributed food and juices among the protesters. After coming into power, they have turned a blind eye to our issues," remarked a protester.

Meanwhile, Punjab Health Minister Yasmeen Rashid termed the sit-in as a move to politicise the issue. She maintained that the government had accepted the demands of lady health workers and have lifted the ban on induction.

As many as 13,000 new LHWs would be inducted, she said. "How can we upgrade eighth grade pass LHWs? There is no such law in the country," she asserted.

Meanwhile, the owners and teachers of schools affiliated with Punjab Education Foundation (PEF) also staged a protest on Mall Road. They gathered in Nasir Bagh and moved towards the Punjab Assembly in the form of a rally. They raised slogans and were carrying placards in favour of their demands.

The protesters' demands included ensuring registration of schools being run under PEF, tax relaxation on commercial buildings and electricity bills, lifting the ban on admissions in schools, restoration of funding and that tariffs on bills should not be treated commercially.

The PEF demonstrators ended their protest after successful talks with Punjab Education Foundation Deputy Managing Director Imran Yaqub.

The protest caused traffic congestion in most parts of the city as Mall Road is a major artery. The blockade affected the traffic flow on the Mall and adjacent roads. Besides, important government offices and commercial areas including WAPDA House, Governor House, Alhamra Hall, 90-Shahra, Lahore Zoo, CCPO Office, Lahore High Court, State Bank of Pakistan, GPO, DCO Office, Panorama Shopping Center and Hall Road Electronic Market were located on this road. A large number of commuters use the road to travel. The blockade also led to traffic congestion on the adjacent Cooper, Ferozepur and Queen's roads.

The City Traffic Police Lahore (CTPL) deployed additional contingents of wardens to maintain the flow of traffic. They also created diversions on roads leading towards the site of the protest.

Lahore Police deployed police officials to provide security to maintain law and order.