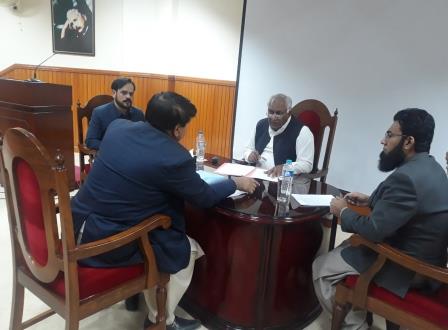 ---
QUETTA: Balochistan National Accountability Bureau (NAB) Director General Muhammad Abid Javed on Tuesday said eradication of corruption is need of the hour, for which "we must work together".

"NAB will play its full role in restructuring rules and regulations related to business/trade in Balochistan to end sleaze in this sector," said the NAB DG while addressing a seminar on 'Role of Business Community in Eliminating Corruption' organised by NAB Balochistan.

Federation of Pakistan, Chambers of Commerce and Industry President Dawood Khan Khilji was invited as a chief guest of the seminar.

The seminar was attended by members of different business organisations, including Quetta Chamber of Commerce and Women Business Association. Provincial secretaries and Balochistan NAB Director Sheikh Mohammad Zahid were also present.

"Balochistan NAB under the leadership of NAB Chairman Justice (retd) Javed Iqbal is taking serious measures to combat corruption," said NAB DG Javed.

He said a Special Cell had also been set up at NAB headquarters on special directions of the NAB chairman for resolving issues of the business community.

"Elimination of corruption and restoration of peace and security is essential for creating better job opportunities for the masses in the business sector," said Javed, adding that business/trade was an important sector, playing influential role in transforming Pakistan into a developed nation.

"The reality is that the international market does not compromise on the quality of goods," he added.

He said Balochistan was a vast province where all stakeholders were working to promote trade and investment as the country's largest province was facing many problems, including unemployment and corruption.

"The business community is the backbone of the country's economic development. NAB values the services rendered by businesspersons," he said. "Many societal evils will be removed from the society if the young generation is involved in the consultation process."

FPCCI President Khilji said NAB should maintain this welcoming approach to restore the confidence of the people.

"The business community is open to sit and discuss matters with NAB," he said.

"There is a dire need to elucidate the laws related to business and trade in Balochistan."

He assured of full support to Balochistan NAB in their undertaking to purge out corruption from the province, adding that he and his business associates would stand united with NAB.
COMMENTS
Comments are moderated and generally will be posted if they are on-topic and not abusive.
For more information, please see our Comments FAQ