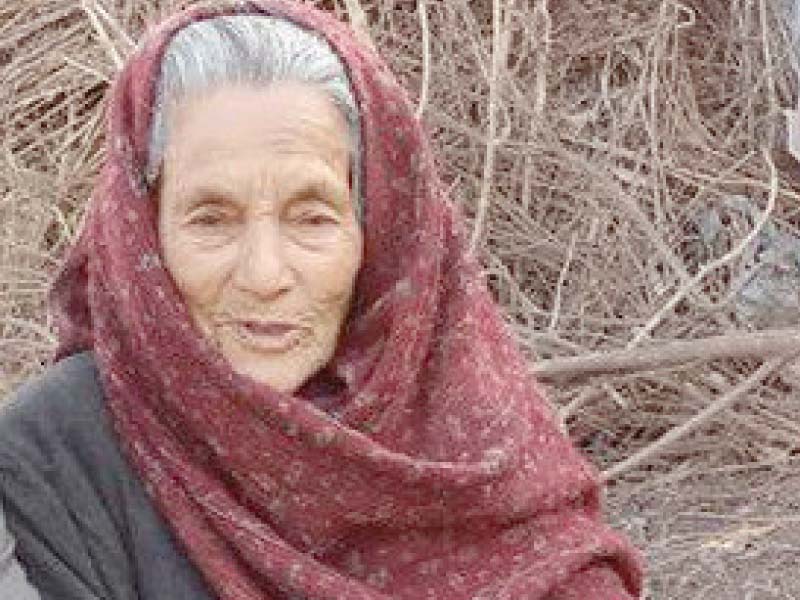 ---
ISLAMABAD: Days after a video of an old, homeless woman in Bhara Kahu urging Prime Minister Imran Khan to help her went viral, the premier made a video call to her, heard her issues and directed to resolve her concerns.

The woman, identified as Naseem Bibi, appeared to be quite old and fragile, said in the video that she had voted for Prime Minister Imran in the elections. Her husband had passed away and she was living in a makeshift road-side hut with no food or water.

She had asked the premier to order the relevant officials to provide her with food, shelter and a means for income at the site.

Imran later made a video call to the woman through an interlocutor and expressed grief over the destitute condition of the elderly woman.

Personally speaking with her, he assured her of assistance from the government.

After the premier's video call, the Islamabad Capital Territory (ICT) administration offered to shift Naseem Bibi to a shelter home.

Naseem rejected the idea, stating that her husband's grave was present at that site and that she did not want to leave it. Instead, she demanded a shelter near it.

In view of this demand, PM Imran instructed the district administration to provide all the requisite facilities to the old woman. Moreover, he instructed the Pakistan Tehreek-e-Insaf (PTI) MNA from the federal capital and the Special Assistant to the PM on Capital Development Authority Affairs Ali Nawaz Awan, and the administration to make arrangements for the woman.

Sources said that apart from facilitating the woman, the district administration has attempted to contact her family. They discovered that her son worked as a property dealer in the federal capital but lives with his family in Rawalpindi.

On inquiring, Naseem bibi's son said that his mother was not ready to live with him despite his repeated attempts.

Meanwhile, Baitul Mal Managing Director (MD) Aun Abbas Buppi announced provision of ration to the old lady apart from fixing an allocation of Rs60,000 stipend for her on an immediate basis.

Buppi's Personal Secretary Saqib Ghori said that he had delivered the ration to Naseem Bibi while the Rs60,000 fixed for her will be transferred to her account tomorrow.

While speaking to Daily Express, Naseem Bibi said that her husband was a loving man who always fulfilled her wishes. He travelled with her and provided her with meals of high quality, she added.

She further said that her husband had arranged air travel with her, something which she always wanted. But after he died, she was left all alone.

Naseem Bibi conceded that she had a son but added that his wife quarrels with her whereas the spouse of her daughter objected to her living with them.

"Sometimes they ask why do I drink so much tea, at other sometimes they ask me to keep my voice low" she complained.

Naseem Bibi said that she was happy and free in her hovel where she was not accountable to anybody and that she could pray and sit beside the grave of her husband whenever she felt sad or missed him.

Asked about the government's offer to move her to an alternate location, she said that if she is moved to even Rawalpindi, she would not be able to travel to visit her husband's grave since it costs money.

Instead, she demanded that the government provide her with a room with all the basic necessities at the narrow strip of green belt which she had come to call home.

After the video went viral, Naseem Bibi's daughter and son-in-law reached the site and asked her mother to live with her. Naseem, though, refused to leave her husband's grave.

Her son-in-law remarked that Naseem Bibi was being as stubborn as a child.

Regardless, Buppi posted on microblogging site Twitter that they will make living arrangements for the lady at her current place of residence as she was not prepared to leave that place.

Ghori added that they were currently looking for a camp equipped with all basic necessities and had approached the National Disaster Management Authority (NDMA) as well as other related departments for this purpose.

Sources said that Naseem Bibi's children finally managed to convince her to leave her hovel on Monday evening, but not before she vowed to return the next morning. Awan in a tweet confirmed that her son-in-law Chaudhry Imran had taken custody of her through the police while promising to take good care of her. 

Published in The Express Tribune, March 19th, 2019.
COMMENTS
Comments are moderated and generally will be posted if they are on-topic and not abusive.
For more information, please see our Comments FAQ