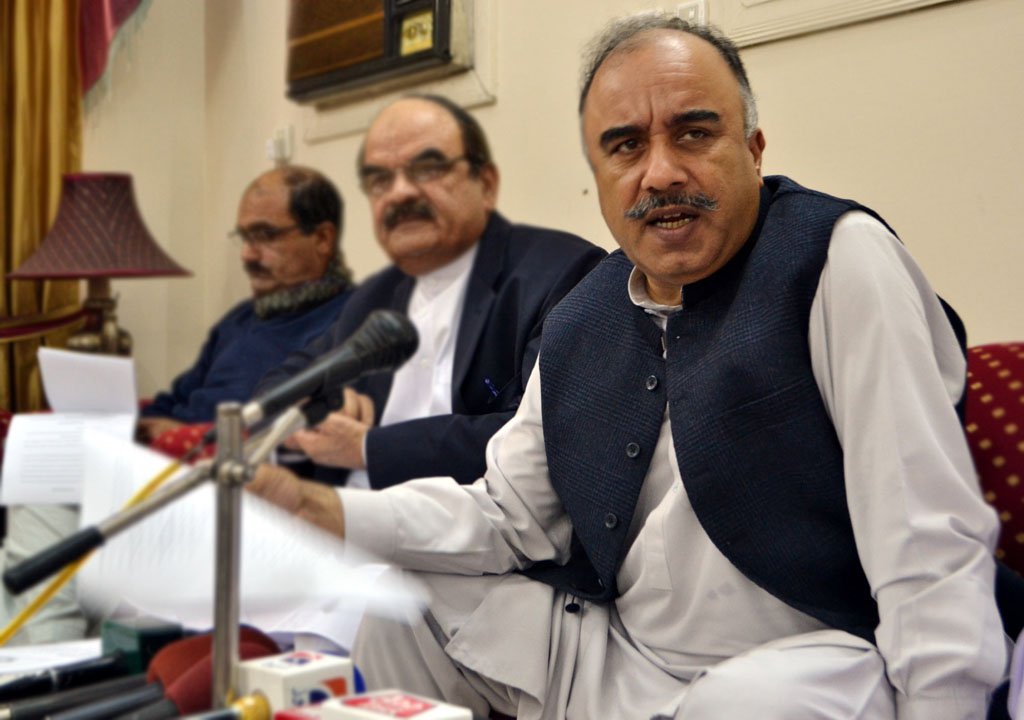 ---
PESHAWAR: Medical profession demands more compassion, empathy and humility rather than blind commercial pursuits, said Governor Shah Farman, while addressing the convocation of Khyber Medical College on Monday.

"Doctors are an important segment of the society they should do justice with their profession without indulging in commercialism," he said addressing the 568 graduates of 2016 and 2017 batches from KMC.

Farman distributed degree certificates among graduates doctors, gold medallists and distinguished position holders in a ceremony attended by students, their parents, faculty and officials of the health department.

The governor appreciating the role of KMC as a medical teaching institute said that young doctors should consider themselves lucky to have earned the opportunity to study at one of the most prestigious and historic institution of the country. ''I congratulate the young graduates, their parents and the faculty alike, it is a day of accomplishments for all of you,'' he said amid a thunderous applause.

The governor said that the fields of social work and public health education also encompass as the important segments of medical education. It is equally heartening to know that apart from the academic pursuits, this institution's hallmark is to inculcate the spirit of social services in students and equip them with public health orientation as well.

Farman said that institutional development demands constant efforts and to make this possible, the commitment on part of the government is very much there.

He further said that he successes achieved over the past few years in particular in this province, were getting further strengthened.

Among the 568 graduates of 2016 and 2017 sessions, 49 received gold medals. Fourteen members of the faculty were given lifetime achievement awards.

In the 2017 batch, Muzhda Subhan achieved 19 gold medals and in 2016 session, Affaf Gul achieved eight gold medals.

The college in its press release issued on the occasion said that Governor General Ghulam Muhammad had laid the foundation stone of the college in 1954.

The college started functioning in 1955 with enrolment of 50 students with meagre facilities. From 1955 to present the college has undergone tremendous development.

KMC was a pioneer institution in K-P in medical education and has created name for itself at national and international level by dedicated work of its staff and students. In fact, it can be proudly called as the mother institution for rest of the medical and dental colleges and other allied medical institution established in the province more than last twenty five years.

KMC has the best faculty of the province known for their academic and research nationally and internationally.

It has produced over 10,000 doctors and 568 students graduated in this convocation.   Students on top of the merit join this institute.

KMC has got one of the largest and well qualified faculty, a 1200 bedded Khyber Teaching Hospital, Peshawar, well equipped with latest facilities, state of the art Labs and lecture theaters and wide facilities of curricular and co-curricular activities. All these elements come together to create a transformational student experience.

"Our graduates have won laurels both nationally and internationally. Our graduates are heading majority of the institutes, not only in the province, but also at federal institutes, armed forces and across the globe," the press release said.

Flourishing and engaged alumni were a visible indicator of the success of KMC practice-led vision. "Our alumni are thoroughly recognised for their best practices, skills and experience that give substance to the vision of KMC. Through their engagement, students can draw on their experience of solving problems in the real world and learn to deliver measurable improvements in organisational performance."

The Journal of Medical Sciences (JMedSci) is the official journal of Khyber Medical College Pakistan recognised by Pakistan Medical and Dental Council (PMDC) and Higher Education Commission (HEC) Pakistan.

KMC is the pioneer medical college of the province to implement Modular Learning System which was introduced by the Dean KMC Prof Dr Noorul Iman. The college has its own medical education department and Curriculum Committee as well.

KMC was the only institute that provides complete residential training to its graduates and post graduates trainees and researchers. Purpose oriented students co-curricular societies; Literary Society, Social Welfare Society, Photography Club, Hiking club, Sports Society, Urdu Club, Debates Club, English Club, and Pashto club play a vital role in the grooming and development of our medical graduates. "We are confident that; our past is glorious and our future will be no different,'' the KMC press release said.

Published in The Express Tribune, March 19th, 2019.
COMMENTS
Comments are moderated and generally will be posted if they are on-topic and not abusive.
For more information, please see our Comments FAQ