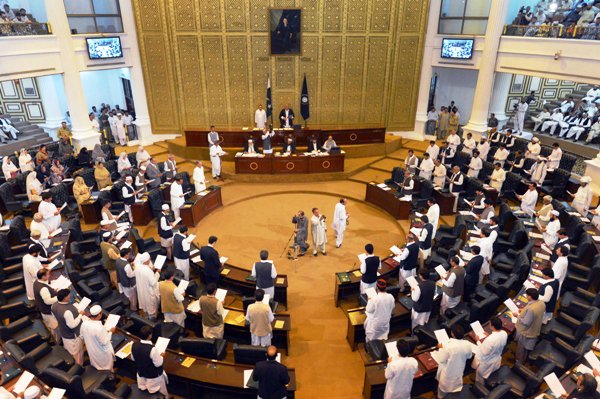 ---
PESHAWAR: Opposition and treasury members in Khyber Pakhtunkhwa Assembly protesting on electricity and gas load-shedding demanded that the control of both departments should be handed over to the province.

They said K-P was producing surplus electricity and gas yet suffering outages of both the utilities.

Speaker Mushtaq Ghani announced calling the federal ministers of both the departments to assembly for a meeting with the K-P lawmakers.

The assembly was unanimous in approving the resolution for declaring the people involved in New Zealand mosque shooting as terrorists.

The also approved a resolution to ban children less than 12 years of age from siting on the front seats of cars. On Monday in provincial assembly discussing the electricity and gas load shedding Inayatullah Khan, Sardar Hussain Babak, Khushdil Khan, Sahabzada Sanaullah, Bahadur Khan, Malik Zafar Azam, Waqar Ahmed Khan, Munawwar Khan, Salahuddin, Jamshed Khan and Faisal Zeb said that as per the constitution whichever province produces electricity and gas the first right is of that province which should be given to it. They said that the distribution work of electricity and gas should be handed over to K-P so that the province can fulfil its need first and after that distribute it to other provinces.

They said that decades-old power lines were also causing electricity line losses. Punishing the consumers for faulty system was unjust, they said.

They said that local consumers were already screaming under the burden of utility bills, slapping them with penalties was totally uncalled for.

The billion tree tsunami funds should be spent on gas provision to these districts which are still deprived of it. On this occasion Prime Minister's Advisor for Early and Intermediate Education Ziaullah Bangash said that electricity and gas not just opposition's issues "they are ours as well but we have supressed our cries for being members of the government."

He said that federal Minister for Water And Electricity Umar Ayub and Minister for Natural Resources Ghulam Sawar should be called in assembly so that they can brief the members.

Bangash said that MMA made the Malakand Tharri project while ANP in its tenure produced 99 megawatt electricity while PTI in its last tenure completed projects to produce 67.2 megawatt electricity and now work is underway on projects to produce 215 megawatts electricity. In electricity profit as well we have got Rs20 billion rupees while remaining Rs36 billion will be provided.

He said that K-P was producing 28,000 barrel oil per day (BPD) and 50,000 BPD equivalent of gas production.

Kohat and Laki Marwat blocks will soon become functional. Bangash said that after oil refinery in Kirk measures are being adopted for its establishment in Kohat as well. He said that only 250 local people were employed at K-P OGDCL.

Speaker Ghani on the suggestion from government benches invited federal ministers Umar Ayub and Ghulam Sarwar to K-P Assembly.

The house unanimously approved resolution that the New Zealand tragedy was carried out by a terrorist not a psychologically challenged person which the international community should accept as terrorist and the incident should be termed an act of terrorism, through the resolution tribute was paid to New Zealand Prime Minister while martyred in incident Abbottabad's Naeem Rashid and his son were also paid tribute, afterwards members assembly discussing the matter condemned international community's reluctance to accept the incident as an act of terrorism.

Published in The Express Tribune, March 19th, 2019.
COMMENTS
Comments are moderated and generally will be posted if they are on-topic and not abusive.
For more information, please see our Comments FAQ