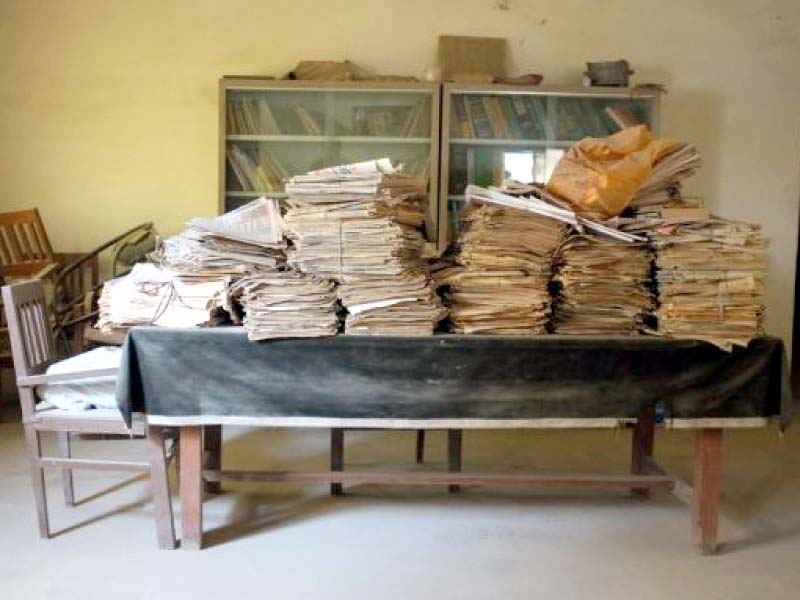 ---
KARACHI: Public libraries - an essential feature of any developed city, are in a state of decay in Karachi.  They had once served as centres of knowledge and information in the city of lights but their current conditions are deplorable. The libraries that fall under the authority of the Karachi Metropolitan Corporation (KMC) have not updated their books and resources in years, are wanting of repairs and maintenance, and lack a proper organisational structure for the few resources they do have. The staff complains of lack of funds by the KMC when asked about the appalling conditions. There are over 40 such public libraries across the city. We picked three libraries in Nazimabad, an area that was the original city centre and was populated by renowned literary figures, to gauge the problems faced by those in charge of the day-to-day affairs. The area was also chosen because of its proximity to several colleges and universities.

Sehba Akhtar Libray

Located in Nazimabad No. 4, named after renowned poet, Sehba Akhtar, the library is certainly well planned. It has an IT [information technology] room, a kid's section, and a women's section, but they remain closed. The IT section, made for internet and digitisation services, has neither a computer nor internet facilities.

Commissioner resolves to restore neglected libraries

It lacks contemporary books, particularly the latest ones on science and technology, and the books it does house are barely legible as their condition has deteriorated over the years.

The shortage of funds and want of attention has left its furniture and infrastructure in deplorable conditions leaving the library barely usable. Visitors here are rare and infrequent. The library has a utility store on its premises and even that despite being located in a busy residential area is hardly ever visited. When the state of the library makes it barely usable, it can hardly be called a resource centre. It is instead reduced to a decaying building which was once of significance.

Al Huda Library

This library suffers a similar fate as Sehba Akhtar Library. Located in Nazimabad No. 1, it is visited infrequently by students. The visitors claim they use the space for hurried assignments and study sessions but rarely ever venture to the library's collection of books. They rely instead entirely on the books they bring themselves.

Historic books being converted into e-library

The reason for this is primarily the lack of books available. There is also an inefficient organisational structure for the ones that are available which makes accessing them fairly difficult. The librarian informed The Express Tribune that multiple requests have been made by the staff to KMC for funds for the repair and restoration of the library but to no avail. Such is the state that even the water supply in the library's washrooms is unreliable, as is the power supply.

The library's staff complained that despite regular applications to the KMC for funds there has been little to no response. This has left the library bereft of any new books, magazines or periodicals in the past 15 years. The older staff reminisced a time when people would visit the library and peruse magazines and periodicals at leisure. Now, they said, only a limited number of a weekly digest is provided to the library which is sometimes issued by local residents.




Taimuria Library

Located in North Nazimabad, Taimuria Library, is one of the few public libraries in the city which is equipped with proper furniture and books which have been carefully preserved. The word 'preserved' is to be noted for this library suffers from a dearth of new books and has not been updated either. It does, however, provide a good archive of old newspapers which have been kept in legible condition. This makes the library a frequent spot for student researchers and scholars, especially from various colleges located in the library's vicinity.

The Express Tribune asked some students present in the library what they feel was missing from the city's public libraries. Most of them were of the opinion that renovations were needed across the board. Some were keen to point out that public libraries were maintained at some point in history and hence they do have rare books which one would be hard-pressed to find elsewhere. The students suggested that those rare collections could be scanned and digitised for easier access.

Some elderly visitors at the library were also asked for their opinions and they too had their share of suggestions. They stressed that government investment is needed for public libraries while some suggested innovation may come if the public -private partnership model is adopted.

A communal space

The older generation and even some local politicians can often be seen lamenting that the internet and deteriorating reading habits among the youth have left libraries empty. However, the deplorable conditions of public libraries cannot be ignored. Yes, Google is available and it is ever present, but as students at Taimuria Library pointed out, not all resources have been digitised yet.

Moreover, public libraries are representative of the city itself. They not only serve as resource centres but should ideally also provide communal spaces where people can peruse books at leisure, engage in scholarly pursuits and interact with others who are on similar quests. Public libraries can also be utilised as spaces for communal and cultural events. One can hardly expect public discourse to rise when the public's access to information and resources is of seemingly little importance to relevant authorities. 

Published in The Express Tribune, March 19th, 2019.
COMMENTS (1)
Comments are moderated and generally will be posted if they are on-topic and not abusive.
For more information, please see our Comments FAQ