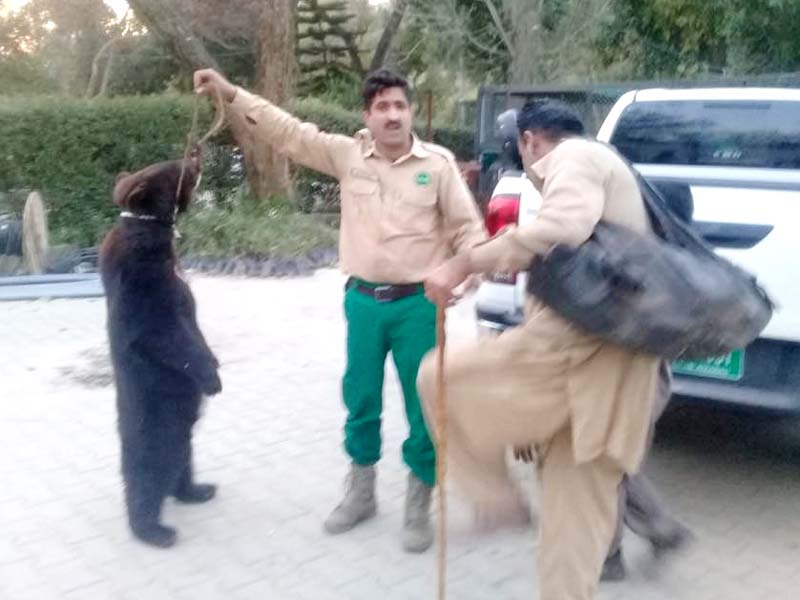 ---
ISLAMABAD: The Islamabad Wildlife Management Board (IWMB) recovered on Monday a black bear, an endangered species, from a vehicle in Sector E-11.

According to an IWMB official, the black bear was seized during a raid conducted under the supervision of board's assistant director Faheem Changwani.




The bear had been illegally raised, and the authorities have shifted it to a wildlife zoo.

"The black bear was worth Rs500,000 and had been brought from Swat to Islamabad. This species of the black bear is extinct across the country," the official added.

The wildlife official clarified that the IWMB had no mandate to arrest and impose fine on violators, adding that the board was working on this issue with Metropolitan Corporation Islamabad to take stringent action against the captor.




A video showed wildlife authorities taking into custody the animal along with its handler.

According to the IWMB official Facebook page, the bear was being used as a street performer... its nose was bored, teeth were removed and rope was in its neck.

[/fbvideo]
COMMENTS
Comments are moderated and generally will be posted if they are on-topic and not abusive.
For more information, please see our Comments FAQ