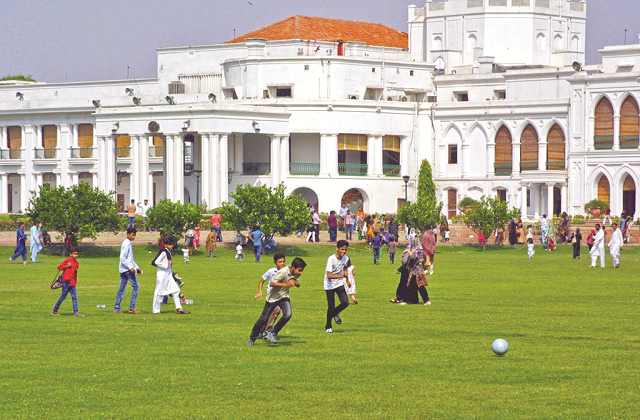 ---
LAHORE: A business plan has been prepared for the Governor House according to which corporate organisations and other sectors will be provided facility to host their functions in Governor House.

This was revealed by Punjab Governor Chaudhry Muhammad Sarwar while addressing the "Agriculture Conference" at a local hotel organised by "The Age Group". Punjab Food Minister Samiullah, Provincial Agriculture Minister Nouman Langrial, The Age Group Chairman Mehar Asif and MPA Nadeem Qureshi were also present on the occasion.

Local resources to be used to build Naya Pakistan houses

He added that business plans for the historical buildings were made across the world and we have proposed a business plan for Governor House by taking all stakeholders on board.

"We are also introducing public-private partnership in the agriculture field," he said. "We are also taking steps to promote agriculture in the province. Without making farmer prosperous, no country can prosperous. We will provide all relief and needed subsidies to farmers," he remarked. "The government is taking steps to provide cheap and advanced seed to farmers by bearing the burden of cost. We will also do crackdown against substandard replicated seeds."

He also condemned the terrorist attack in New Zelanad. Speaking on the occasion, he said the Christchurch terrorism incident has once again reinforced that terrorism has nothing to do with religion. "We all have to stand united against terrorism. Pakistan has once again exposed Indian aggression before the world by shooting down Indian drone. The federal and Punjab governments are taking steps to introduce the latest technology in the agriculture field. Without any doubt, Pakistan can only be prospered by focusing on agriculture," he said.

He also lauded the Pakistan Armed Forces and said they have made tremendous sacrifices in the fight against terrorism. "The whole nation salutes and pays tribute to the martyrs. Pakistan has always condemned terrorism and has tried to play its role in uprooting terrorism across the world. We strongly condemn terrorism in New Zealand and our sympathies are with the victims of terrorism. We urge the New Zealand government to take strong and effective measures to counter rising Islamophobia in the country."

Meanwhile, a special memorial service was organised at Bahar Colony Kot Lakhpat in connection with the martyred of incident Christchurch, New Zealand. The event was attended by MNA Shanila Ruth, Punjab Minister Minorities Affairs Ijaz Alam Augustine, Pastors from all over the country and a large number of Christians. Lamps lighted and flowers staged on the stage for solidarity with martyred.

Govt empowers FGEHF to build housing schemes

In her address, MNA Shahnila Ruth said killing of a single person was in fact killing of all human beings and all religions teach to live with love and peace. Minister of Minorities Affairs Ijaz Alam said many terror incidents occurred in Pakistan, including APS, Gojrah, Yunnaabad, St Church Peshawar and Gulshan Iqbal Lahore. "The sacrifices of our brave soldiers and nation bring peace back to the country. "Today we pray for forgiveness of all the martyrs of Pakistan, especially martyred of Christchurch Church. We are spreading the message of peace in the world," he added.

Published in The Express Tribune, March 18th, 2019.
COMMENTS
Comments are moderated and generally will be posted if they are on-topic and not abusive.
For more information, please see our Comments FAQ