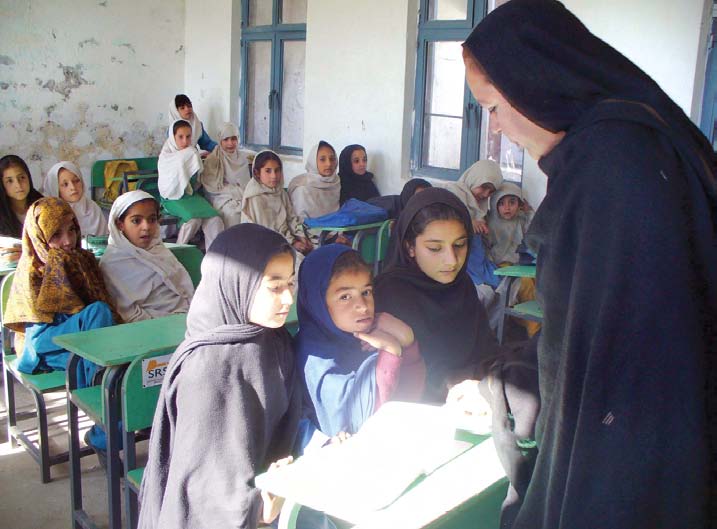 ---
PESHAWAR: In a strange move, the provincial government has decided to force teachers of government schools to start wearing uniforms, like their students, during their class.

The decision stands to impact some 200,000 teachers at the primary, middle and high schools across the province who would have to wear a blue, black or any bright colour gown as their uniform.

There will be different uniforms for teachers, headmasters and principals as well as for female teachers.

Advisor to Chief Minister on Elementary and Secondary Education Ziaullah Bangash said that the measure has been taken to easily identify teachers in schools from other officials.

He added that teachers occupy a special place in society and hence must be highlighted.

Despite his lofty ideals, Bangash conceded that teachers will ultimately have to procure these uniforms from their own pockets instead of being facilitated by the provincial government in this extra expense.

Bangash added that the K-P Elementary and Secondary Education Department Director General (DG) has been informed about this measure and a notification in this regard is expected to be issued soon.

K-P All Primary Teachers Association Secretary General Badshah Mehmood said that teachers need to be respected in society, not just the uniform.

He added that the salaries of primary teachers were not very high, hence, the government will arrange their uniforms , Mehmood lamented, adding that the provincial government came up with the new decision every day which could compel teachers to protest.

Parliamentary Leader of the Awami National Party (ANP) in the provincial assembly and a former education minister in the ANP government Sardar Hussain Babak expressed that the condition of uniform for teachers was merely an act of point scoring.

Instead, he urged the government needs to revise its strategy. He added that the underpaid teachers of the province cannot afford a new uniform from their pockets.

He further said that the previous governments had spent millions on teachers while the current government was trying to change this practice.

'2.6 million children out of school in K-P'

Babak suggested that the government consider purchasing modern electronic boards for teachers which would be far more helpful for both teachers and students.

Moreover, he dismissed the utility of such uniforms given that the students know who the teacher was and who was not.

"Non-teaching staff can also be identified if they are given a cap only instead of a full uniform," he said while questioning the practicality of such a measure.

Published in The Express Tribune, March 18th, 2019.