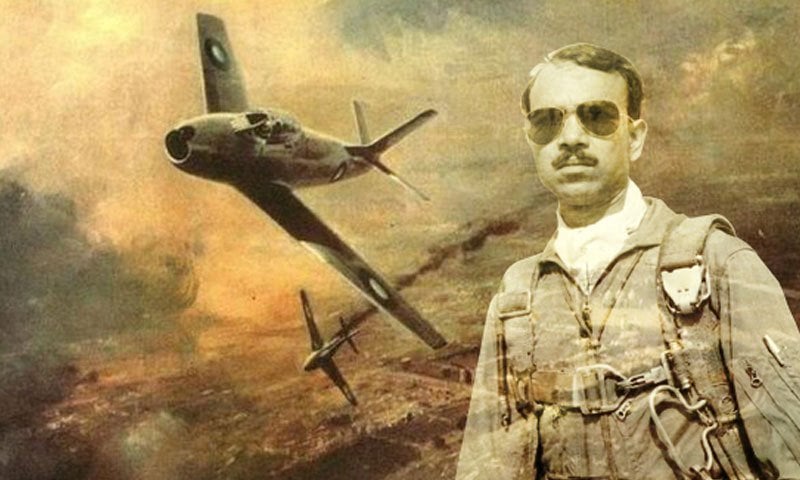 ---
KARACHI: The sixth death anniversary of national hero MM Alam, who downed five enemy planes within a minute during the 1965 war, is being celebrated on Monday.

In September 1965, MM Alam had encountered Indian jets at three different points. The enemy clearly had more military capacity than Pakistan. However, the air encounters paved way for certain events which remain unparalleled in the history of the air force.

In less than a minute, five Indian Air Force (IAF) jets were downed one after another by Alam as he hit targets flying his F-86 Sabre.




Fifth death anniversary of war hero MM Alam being observed today

In recognition of his extraordinary skill, MM Alam was awarded titles such as 'Falcon' and 'Little Dragon'. During the war of 1965, Alam destroyed 11 IAF jets – nine were shot down while two were partially damaged.

According to Commodore (retd) Shabbir Ahmed Khan, a veteran of the 1971 war, in addition to professional excellence and skills, Alam was also bestowed with passion and patriotism for the country.




"It was his determination that helped us achieve something we were not readily capable of," he said, adding that when Alam's juniors used to reach him, they were always told they would have to readily sacrifice their lives for the country if the situation demands.

"Alam believed in lighting a candle rather than cursing the darkness," said Khan, recalling he was extremely fond of books and had a collection of 5,000 books which remains to this day in the PAF Base Masroor and Noor Khan Air Base Chaklala.

MM Alam was awarded the third highest military honour of 'Sitara-e-Jurrat'.

The PAF hero died on March 17, 2013, after a prolonged illness and is buried at the Shuhda Qabiristan at PAF Base Masoor in Mauripur.