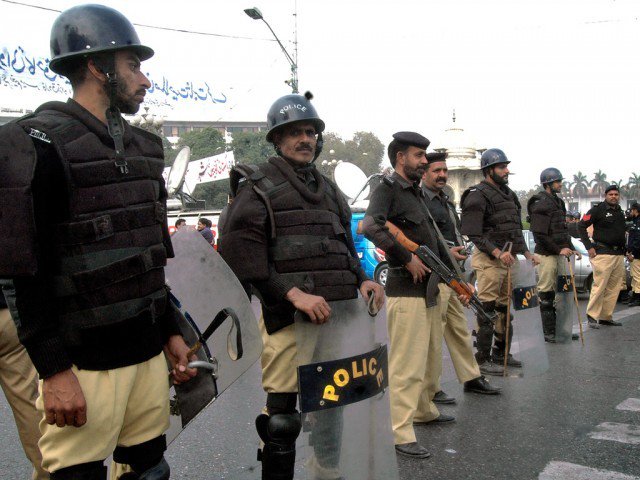 ---
CHINIOT: Police book 31 villagers for taking hostage a raiding team in Chiniot's Lalian City, Express News reported on Friday.

Police said Constables Nausher, Saifullah and others conducted a raid in Bahiwal area to arrest an individual wanted in criminal cases.

He added that when the policemen reached the area, several villagers attacked the officials. He said that the villagers misbehaved with the cops and they physically assaulted them. The accused also tore the officials' uniform, he mentioned.

Chiniot villagers physically assault police raiding team, tear off their uniform

The official maintained that after sometime, a heavy contingent of police officials reached the spot and recovered the abducted policemen from the custody of the villagers.

The villagers said that the cops resorted to aerial firing in the area that compelled them to intervene and catch them.

Meanwhile, Kandewal Police Station SHO Malik Asad denied the claim of the villagers. He said the policemen did not resort to firing.

He maintained that the villagers had made the vicinity a no-go area for the police. The SHO mentioned that the police team raided the spot to nab suspect Shahid, who was involved in several crime cases.

Asad said a case no 46/19 had been registered against 17 nominated and 14 unidentified villagers under sections 148, 149, 186, 337, 353, 342 and 365.

He pointed out that action against the accused will be taken as per the law.

Earlier, seven policemen, who were abducted by bandits in the riverine area of Rajanpur, were rescued after a successful police operation.

Police arrest murder suspect

Police officers were taken hostage when they were sailing on a boat nearby an island in the Indus River near Moro in the limits of Bangla Icha police station. The bandits took the officers and their boat to their hideout.

Following their abduction, police started an operation in the area to recover the policemen during which an exchange of fire occurred between the police and bandits.

However, the bandits managed to escape from the spot while police successfully and safely recovered the officers.

Published in The Express Tribune, March 16th, 2019.
COMMENTS
Comments are moderated and generally will be posted if they are on-topic and not abusive.
For more information, please see our Comments FAQ