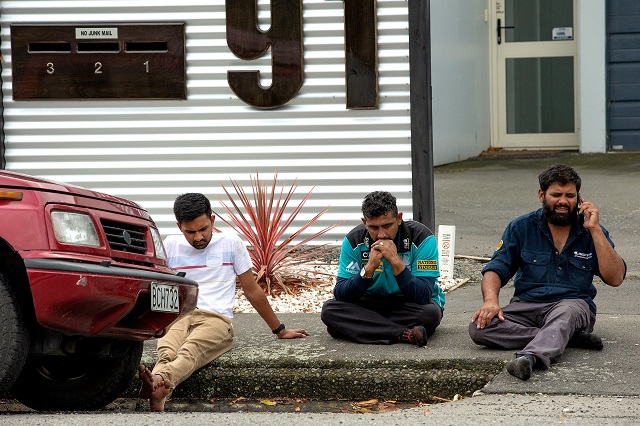 ---
WELLINGTON: Attacks on two Christchurch mosques left at least 49 dead Friday, with one gunman - identified as an Australian extremist - apparently livestreaming the assault that triggered the lockdown of the New Zealand city.

In what appeared to be the worst attack against Muslims in a western country, witnesses spoke of victims being shot at close range, with women and children believed to be among those killed.

"It is clear that this can now only be described as a terrorist attack," said Prime Minister Jacinda Ardern, saying it marked "one of New Zealand's darkest days".

"From what we know, it does appear to have been well planned," she said, adding that in addition to the dead, at least 20 people were seriously injured.

Witnesses spoke of seeing bloodied bodies and police warned of "extremely distressing footage" of the incident circulating on the internet.

Police earlier said four people - three men and a woman - had been taken into custody, and that they had found and neutralised a number of IEDs (improved explosive devices).

In a press briefing after the initial statement, police in the Pacific country confirmed one individual was charged in the attack.

A Palestinian man who was in one of the mosques said he saw someone being shot in the head.

"I heard three quick shots then after about 10 seconds it started again. It must have been an automatic -- no one could pull a trigger that quick," the man, who did not wish to be named, told AFP.

"Then people started running out. Some were covered in blood," he said, adding that he joined the fleeing crowd and managed to escape the scene.




"This is an evolving incident and we are working to confirm the facts, however we can confirm there have been a number of fatalities," police commissioner Mike Bush said.

"Police are responding with its full capability to manage the situation, but the risk environment remains extremely high," Bush said.

New Zealand police said in a tweet that they were aware of "extremely distressing footage relating to the incident in Christchurch circulating online."

"We would strongly urge that the link not be shared. We are working to have any footage removed."

"It is clear that this is one of New Zealand's darkest days," said Prime Minister Ardern. "Clearly, what has happened here is an extraordinary and unprecedented act of violence."

The Masjid al Noor in central Christchurch was filled with worshippers when the attack happened, as was the second mosque in suburban Linwood.

An eyewitness told Radio New Zealand that he heard shots fired and four people were lying on the ground, with "blood everywhere".

Police said they had put the entire city on lockdown including schools, and told residents to stay off the streets.

They also warned Muslims all over the country not to visit mosques "anywhere in New Zealand". Friday is Islam's holy day.

Christchurch city council offered a helpline for parents looking for kids attending a mass climate change rally nearby.




"Please do not try and come and collect your children until police say it is safe for people to come into the central city," they said.

Police evacuate neighbourhood amid mosque attack probe

New Zealand police investigating Friday's mosque massacre in Christchurch have evacuated residents living near a property in the city of Dunedin that they believe is linked to the attacks, officials said.
Police said the property, located some 350 kilometres (220 miles) from Christchurch, was "of interest" in relation to the mosque attacks.

"Evacuations of properties in the immediate area have taken place as a precaution," police said in a statement. They did not provide further details.

The gunman was arrested by police, who also took two other men into custody. It was not immediately known what their link may have been to Dunedin, about a four-and-a-half hour drive south of Christchurch on New Zealand's South Island.

NZ mosque gunman was Australian right-wing 'terrorist': Australia PM

The gunman who killed numerous worshippers in a New Zealand mosque on Friday was a right-wing "terrorist" with Australian citizenship, Australian Prime Minister Scott Morrison said.

"We stand here and condemn, absolutely the attack that occurred today by an extremist, right-wing, violent terrorist," Morrison told a press conference.

He confirmed media reports that the gunman who mowed down worshippers in the main mosque in the southern New Zealand city was an Australian-born citizen.

He said Australian security authorities were investigating any links between the country and the attack but declined to provide further details about the Australian gunman.

An emotional Morrison offered his sympathies to Kiwis.

"We are not just allies, we are not just partners, we are family," he said.

"It is such a sad and devastating reminder of the evil that can be ever present about us," Morrison said of the attacks.


I condemn the violent, extremist, right-wing terrorist attack that has stolen the lives of so many innocent New Zealanders as they went about their peaceful practice of worship at their mosques in Christchurch today.

— Scott Morrison (@ScottMorrisonMP) March 15, 2019
COMMENTS (4)
Comments are moderated and generally will be posted if they are on-topic and not abusive.
For more information, please see our Comments FAQ