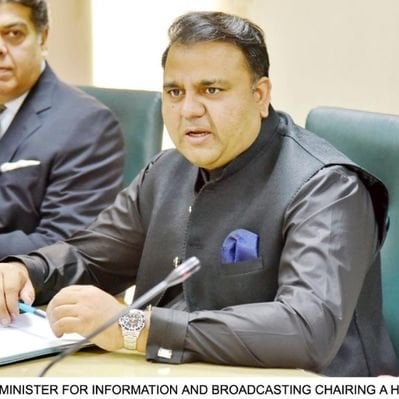 ---
Information Minister Fawad Chaudhry on Thursday underscored the need for judicial reforms and said that it will be the biggest service that the Pakistan Tehreek-e-Insaf government can provide for the people.

Addressing a gathering at the Islamabad High Court Bar Association, Chaudhry said that lawyers are a necessary cog for any reforms in the judiciary and that without them there can be no change.

"Law reforms will help the economy and will also create better opportunities for lawyers. A master plan is being concocted and after the approval from Prime Minister Imran Khan, a high rise building will be dedicated to law offices. This will be a new dimension in litigation," he said.

India has been taught a lesson, says Fawad Chaudhry

The information minister highlighted the importance of bar associations and said they will also be taken on board or the reforms.

"We have to take a look at the procedure for inducting judges to the high courts," he said. He emphasised the need for creating a judicial system that is equal for the rich and the poor. Taking a hit at the current system he said that when a rich person is jailed, his cell is like a five-star hotel. He also said that it should not just seem like justice is served, it should actually be served otherwise Pakistan will not move forward.

He also took a hit at the country's media organisations, saying libel cases have become a joke as they do not have any effect on the offenders and said that defamation laws should be looked into. "Two separate judges should be assigned to each district to deal primarily with the media and defamation laws," said the information minister.

PML-N rubbishes Fawad Chaudhry's twitter revelations

Defending the prime minister, Chaudhary said although no one is perfect, Imran has the best of intentions for the country and there can be nobody better than him to govern it. "Whether or not you like the prime minister, his intentions for the country cannot be doubted, he wants to make life better for Pakistan's people," said Chaudhry. He cited the recent unrest with India and said that just because the government and the Pakistan Army were on the same page the crisis was averted.

He also spoke about Pakistan Peoples Party and Pakistan Muslim League-Nawaz and deemed their claims of victimisation false. "During Nawaz Sharif's tenure, they registered cases against PPP and during PPP's tenure they registered cases against the PML-N. PTI has not registered a single case against the parties," Chaudhry said.

He promised a prominent difference in Pakistan and highlighted how in the last eight to nine months of governance there have been no government scandals.