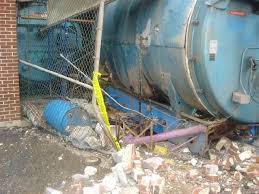 ---
RAHIM YAR KHAN: At least three labourers suffered critical burn injuries when a steam boiler exploded at a sugar mill in Rahim Yar Khan's Jetha Bhutta area, Express News has learnt.

Reportedly, labourers were busy working in Hamza Sugar Mill when one of its steam boilers exploded. As a result, three labourers, who were present near the explosion site, suffered burn injuries. The victims were immediately shifted to the burns unit at Tehsil Headquarter Hospital in Khanpur.

The doctors at the health facility said the victims were being provided treatment, but the condition of one, identified as Sulaiman Shah, a resident of Kamalia Tehsil, was critical.

They revealed that 75% of the victim's body had been burnt in the incident and efforts were being made to save his life.

Meanwhile, area residents said that the explosion was so intense that its reverberation could be felt in far-flung areas.

Sources told Express News that the steam boiler that exploded had been functioning since 1994 and was in a poor condition. They revealed that the mill management committed negligence by not carrying out proper maintenance.

Unsatisfactory working conditions and poor safety standards at workplaces pose a grave threat to the lives and health of labourers, apart from causing heavy losses to factory and mill owners.

Injuries and deaths due to occupational hazards take some two million lives a year and cost the global economy about $1.25 trillion, according to the International Labour Organisation (ILO).

In Pakistan and other countries like Bangladesh, Mali and Nepal, 70% of workers performed duties in the informal sector and were subject to poor working conditions, stated an ILO report titled "Safety in numbers: pointers for a global safety culture at work".

Developing countries suffer huge losses due to work-generated illnesses, accidents and deaths, which account for up to 10% of gross domestic product, according to the ILO report.