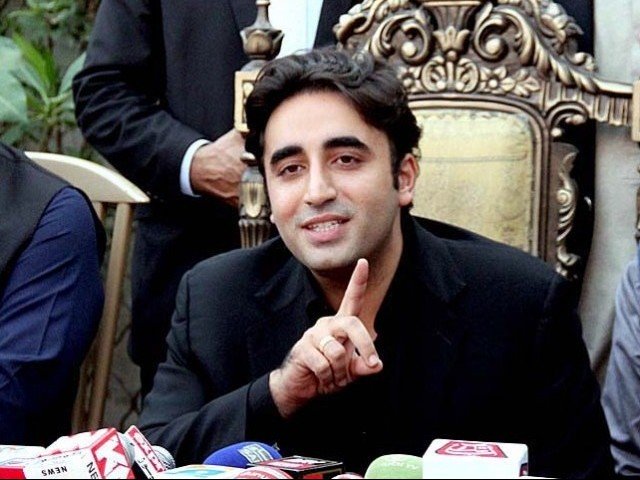 ---
KARACHI: Pakistan Peoples Party Chairman Bilawal Bhutto-Zardari on Wednesday called the National Accountability Bureau's (NAB) actions "political engineering" and demanded that Prime Minister Imran Khan remove three federal ministers, claiming that they have links with a banned organisation.

"Three federal ministers are hand-in-glove with terrorists. I don't want to disclose the ministers' names, but will do so if the government does not take action," he said while addressing a press conference after his meeting with Sindh Assembly Speaker Agha Siraj Durrani at the assembly.

Bilawal, who was flanked by Sindh Chief Minister Murad Ali Shah and senior PPP leaders, said, "These ministers have historic links with banned organisations. One minister was publicly seen with a proscribed organisation during the elections and his connection still continues," he said, adding that many video clips have gone viral of another minister who publicly said 'no action will be taken against such outfits while PTI rules the country'.

The PPP chairman then said, "There is another federal minister who enjoys powers in every 'selected' government. He is a mouthpiece of a particular mindset and undemocratic values, which he always propagates it.

"His past statements are available to all. He used to attend the rallies of a banned organisation and has even been seen at training camps of such outfits."

Bilawal demanded implementation of the National Action Plan in letter and spirit and said, "These individuals must be removed from Imran Khan's cabinet so that opposition can accept that the government is serious about taking action."

He said no good would happen until action is taken against such a mindset in the federal government.

He also accused the federal finance minister of having links with militants. "The leader of a UN-banned organisation suddenly appeared on the media in the last general elections with Asad Umar and announced he would join and support PTI.

"How can we accept that you are taking action against them? We can only accept it if you take confidence-building measures," he said, demanding the formation of a national security committee comprising members of both the houses to oversee the national action plan.

"This creates doubt over the credibility of PTI lingers. PTI should distance itself from terrorists and draw a parallel between old and new Pakistan," he remarked.

"The militants were allies of the PTI in the last general elections. How will the government convince opposition parties that it is serious in implementing the plan by taking action against banned outfits."

He blamed the federal government for giving an NRO to proscribed organisations and said, "Why court orders are not issued against militants creating terror and killing innocents.

"You can announce judgments against Benazir and Asif Ali Zardari over the phone. Why are such actions not taken against militants who kill innocent people in Pakistan and abroad?"

He said Zulfikar Ali Bhutto was hanged and thrice-elected prime minister Nawaz Sharif is behind bars, but no action is taken against leaders of militant organisations who still move about freely.

Bilawal also responded to comments federal finance minister Asad Umar and Prime Minister Imran Khan had directed at him a few days back.

"After the Indian aggression, I paused for a while just for national integrity, but it is high time to tell the truth," he said, adding that opposition parties have shown that they can "talk the talk and walk the walk" in a democratic manner against government's policies.

"It is my duty to make the government accountable by exposing human rights violations and reminding them of their pledges."

He also warned the PTI government to distance itself from such practice and wrongdoings.

Talking about the cases against Sindh Assembly Speaker Agha Siraj Durrani, he said, "The Sindh Assembly speaker is not a PPP office but a constitutional office which was attacked by NAB," while also reminding that the bureau was made by General Musharaf.

He said Durrani is a senior leader of Pakistan and his father has served as speaker of the house.

"It is political engineering and we condemn the charges."

He compared NAB's allegation about assets beyond means to a policeman who planted hashish on a person and then arrested them.

"This is the nature of allegation which can easily be levelled against anyone. They don't have any proof. They conducted a raid at his house and harassed the family, breaching the sanctity of the speaker's house, which is intolerable," he said, adding that the family members -- including women and children were "held hostage".

"I want to ask why the NAB chairman has not taken action against his officials, who have violated the human rights. I demand that the NAB chairman take action, otherwise we will do it," he said, adding that this should not be done in any society.

"NAB is a black law and made for political engineering," he said, adding that his mother. late Benazir Bhutto, had already announced she would close NAB and the party still intends to do it in the future.

Talking about the cases against him, his father, and his aunt Faryal Talpur regarding fake accounts and fictitious transactions, he said suo motu action was taken during the time of the elections.

"They formed a JIT citing slackness and slow progress in these cases. If slackness is the reason, then why were the cases of Zulfikar Ali Bhutto, Benazir Bhutto and Asghar Khan not taken up? Why did they only see slackness in this case after my election campaign in Ghotki," the PPP chairman remarked.

ISI is being politicised

Bilawal also questioned the very formation of a joint investigation team to probe the benami case. "Appointing Inter-Services Intelligence (ISI) on the JIT sets an undemocratic precedent," he claimed.

"This not only politicises the ISI but also the judiciary. Rather, this militarises the judiciary," he said.

The PPP leader said that the anti-graft body was a tool being used for political engineering, adding that he and the Sindh chief minister were also targeted by NAB without even being served any notices.

Referring to Article 10 of the Constitution, he said, "Every citizen has a right to a free trial, but it has been undermined. Justice will not be done in this way," he said, adding that now the case has been shifted to Rawalpindi, which is in violation of the concept of jurisdiction.

"Trials normally start wherever the crime is committed. The FIR, accused, banks, and even the alleged transactions were in Sindh, so why is the case being transferred to Rawalpindi," he said, adding, "I don't know why such treatment is only meted out to Bhutto, his family and the PPP."

Political engineering

"The world is watching how they are dragging me in this case for 'political engineering'," he said.

He then suggested that the chief justice of Pakistan summon ISI officials and ask why Bilawal's name was included in the JIT.

"The [previous] chief justice issued orders to expunge my name from the JIT and ECL. But it was not mentioned in the written order of the court.

This all was done because court orders are written somewhere else," he said, adding that all media reported it, but no one complied with the order. "I request the honourable Supreme Court and incumbent chief justice of Pakistan to please check the record. Justice should be done and be seen as being done."

He further said, "We can't afford that our courts indulge in political engineering. We should not have this discrepancies and discrimination by altering court orders."

Criticising the federal government for bulldozing the 18th Amendment, he claimed, "Our health facilities like Jinnah hospital, National Institute of Cardiovascular Disease and National Institute of Child Health have been handed over to the federal government, which is an injustice with Sindh."

He challenged the other provincial governments to show if they had developed such hospitals in their own provinces.

"NICD has now become one of the largest hospitals in the world where treatment is being given to patients without charging a single penny.

He said the PPP would file a judicial review to challenge the Supreme Court order to hand over the hospitals to the federal government.

"We will not compromise on this issue. This is our third generation fighting for rights. My mother rendered sacrifices for the revival of democracy and institution building and I will not let anyone snatch our rights," he said.