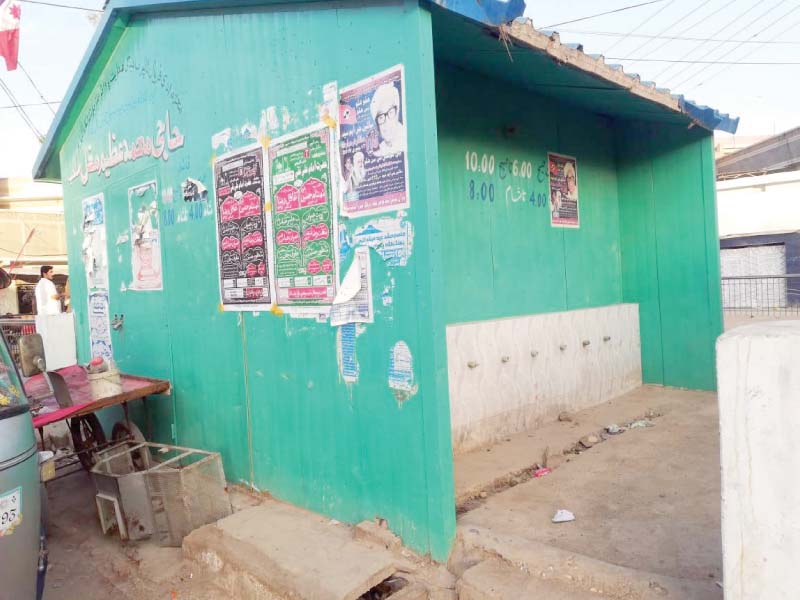 ---
NAWABSHAH: It may have been the home of Sindh's first family for the last 30 years, but the common citizenry of Nawabshah still cannot even get a glass of clean drinking water.

"The government might have spent billions on the construction of buildings or roads, but drinking water is still a distant dream for us," said Abdul Majid Soomro, a resident of Nawabshah, the hometown of the Pakistan Peoples Party's (PPP) top leadership. Soomro was not alone in his longing for clean, potable water. Thousands of other people living in the hometown of PPP co-chairman Asif Ali Zardari suffer from the same dilemma.

The PPP has allocated billions of rupees in provincial budgets and special packages since coming back to power in 2008, but drinking water and sanitation schemes are still nowhere to be seen.

"My wife has been admitted in the civil hospital for the last two weeks. I have had to pay Rs3,000 just for bottled water for her and attendants like myself. There is no potable water for patients in the entire hospital," said Nawaz Dahri, a middle-aged man sitting at the medical facility - one of the largest teaching hospitals in Sindh.

Filtration plants

During a visit to the areas, it was found that almost all water filtration plants established by the then-district nazim Faryal Talpur - Zardari's sister - during the General Pervez Musharraf era are out of order. However, two newer filtration plants, which cost Rs1.5 billion and were inaugurated by Bilawal in 2012, are partially operational.

"These plants have the capacity to filter around one million gallons of water every day, but hardly 100,000 to 200,000 gallons are being filtered," said local journalist Ismail Domki, adding that after inaugurating both the plants, the government did not make any effort to extend the water network to provide water to houses.

"The government has built universities, roads and upgraded hospitals, but it is lagging behind as far as drinking water is concerned. People are compelled to fetch potable water from hand pumps installed in various areas," he remarked.

Azeem Colony, Sanghar Road, Taj Colony, Gharibabad, Police Headquarters, Katchery Road, and Manwabad are among the worst-affected areas, where people have not had access to potable water for years.

Budget books

The Sindh government's budget books show that billions of rupees have been allocated and spent on various initiatives in Shaheed Benazirabad district, but water and sanitation have been a low priority for the ruling party and its leadership. According to the finance department, Rs18 billion was allocated in 2017-18, Rs5.2 billion in 2016-17, Rs17 billion in 2015, and Rs2 billion in 2013 under special packages separate from the routine budget for the division.

In the evenings, huge crowds rush to hand pumps outside the town adjacent to freshwater canals. "Every day after work, I come here to fill three to four jerry cans of water for my household use," said Hussain Panhwar, who lives in Taj Colony.

Not only men, but large numbers of children are also seen waiting for their turns to fill their jerry cans. "The water in the city is undrinkable, so most people who can't afford bottled water come here," Panhwar said.

District government water supply schemes are in abject condition.

A few ponds, built many years ago, are linked from Rohri Canal, but they are in a pathetic condition. Stray animals roam around them and garbage lines the ponds, indicating the apathy of local authorities.

"Since filtration plants are not working, the ponds are useless," said Arshad Khaskheli, a social activist who runs the Shah Sachal Saami Foundation. Referring to a UNDP survey, he said, "Over 95 per cent of underground water is not fit for human consumption. Arsenic is found in the water." He added that no sincere effort was made in redressing this important issue.

Major water crisis feared in Karachi

Discrepancies in hospital expenditure

"The teaching hospital's administration, in their expenditure, has shown bills of Rs20 million in a year for bottled water, but patients have suffered from water scarcity for years. I don't know to whom they provided water," he said. He referred to the judicial water commission's visit last year, saying, "Justice (retd) Amir Hani Muslim took strong exception to the condition of the hospital, which is deprived of drinking water facilities for patients," he said.

An official privy to the development told The Express Tribune that Justice Muslim expressed concern over Rs860 million being spent by the hospital administration in just two days and asked, "Please provide me with the original record showing how you spent this huge amount in two days…and why you have failed to provide water despite having so much funding available."

Major water crisis feared in Karachi

Public Health Engineering Department Executive Engineer Sajjad Saeed, whose department is responsible for running the ponds and filtration plants, held the high-ups responsible. "The filter plants are not working properly because of membranes which need to be replaced," he said, adding that they have written to senior officials, but with no result.

Talking about the ponds, he said, "The expected life of these ponds will also end by 2020." He said that three years back, they submitted a scheme to revamps the ponds and lay down a pipeline network in the city. "Now, we have received some funds and started work on it."

Zardari and his sister, Azra Pechuho, are the incumbent MNA and MPA from the areas. Despite many attempts, neither was available for comment.

Published in The Express Tribune, March 14th, 2019.
COMMENTS
Comments are moderated and generally will be posted if they are on-topic and not abusive.
For more information, please see our Comments FAQ