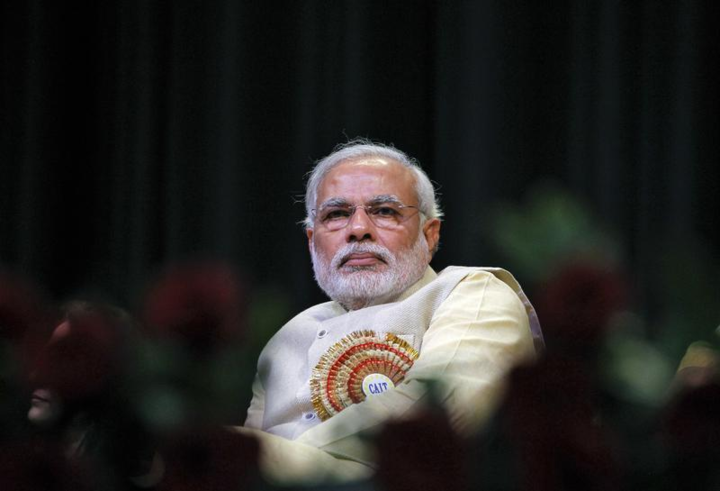 ---
Indian Prime Minister Narendra Modi went on a Twitter blitz on Wednesday, calling on Bollywood stars and other celebrities to urge Indians to vote in the country's upcoming general elections taking place between April 11 and May 19.


In 29 rapid-fire tweets, Modi tagged cricket stars Virat Kohli and Mahendra Singh Dhoni, and Bollywood actors Aamir Khan and Vicky Kaushal, asking them to inspire others to exercise their voting rights.
Voting is not only a right but it's also a duty.

Dear @BeingSalmanKhan and @aamir_khan,

It is time to inspire and motivate youth in your own Andaz to vote so that we can strengthen Apna Democracy & Apna country.

— Narendra Modi (@narendramodi) March 13, 2019
"Dear @msdhoni, @imVkohli and @ImRo45. You are always setting outstanding records on the cricketing field but this time, do inspire the people of India to set a new record of high voter turnout in the upcoming elections," he wrote in one post. "When this happens, democracy will be the winner!"
Urging @SrBachchan, @iamsrk and @karanjohar to creatively ensure high voter awareness and participation in the coming elections.

Because...its all about loving your democracy (and strengthening it). :)

— Narendra Modi (@narendramodi) March 13, 2019
Modi, who has 46.3 million Twitter followers, also reached out to his political rivals, including Rahul Gandhi who heads the centre-left Congress party.
"A high turnout augurs well for our democratic fabric," he said in a message marked to Gandhi.
My fellow Indians,

Urging you all to strengthen voter awareness efforts across India.

Let us all ensure maximum number of Indians come out to vote in the 2019 Lok Sabha elections.

— Narendra Modi (@narendramodi) March 13, 2019
Elections in the world's largest democracy have long been plagued by lack of trust in its polling procedures, with the Election Commission recently launching new measures aimed at combating issues seen in the previous 16 ballots.
The media plays a vital role in a democracy.

It is also a strong influence on people's minds.

I request @Sanjaygupta0702, @aroonpurie and @18RahulJoshi to work towards greater voter awareness and registration that ensures an impressive turnout at the hustings.

— Narendra Modi (@narendramodi) March 13, 2019
In the outgoing parliament, there were 186 lawmakers facing criminal charges or being investigated – some 112 of them involving cases such as murder or rape.
This time, candidates have to issue three newspaper and TV advertisements detailing any charges they are facing in the constituency where they're standing.
Candidates have to declare income and tax returns for the past five years – the information is made public before the vote – as well as submit details any of the assets and liabilities in their name abroad.
Live webcam broadcasts will monitor 5,000 polling stations and all counting halls in real time.
A smartphone app will allow citizens to record any polling misconduct or malpractice such as distributing liquor or drugs – a common method of vote-buying.
The complainant, who can remain anonymous, can upload a photo or video to the app and officials are obliged to respond within 100 minutes.
A toll-free helpline for voter information, feedback and complaints will also operate for the first time.
Candidates have to declare their social media accounts in legal filings when they apply to become an election candidate. This is aimed at monitoring and ending the misuse of social media during the polls, in a country where online misinformation is rife.
India is Facebook's biggest market, with smartphone use exploding since the last election thanks to the world's cheapest data tariffs.
Political advertising on social media will be considered a formal part of the campaign, unlike in 2014, and subject to rules and regulations.
Facebook India has said it will display "published by" or "paid for by" disclaimers to political advertising on Facebook and Instagram to increase transparency.
With an estimated 300 million illiterate adults across India, photos of candidates will now feature alongside party symbols on electronic voting machines.
The devices have been dogged by claims they can be hacked, but will now print out a chit for each voter, who can confirm the details before dropping it in a sealed box inside the polling booth. Random matching of the chits and numbers of votes on the machines should verify no tampering was done.
Vehicles transporting the voting machines will also be fitted with GPS devices.
Nearly 39,000 voters have registered as "third gender", the first time they have been able to after a 2014 Supreme Court ruling that formally recognised transgender Indians.
There are around 500,000 transgender people in India, but previously they had to register as either a man or woman.