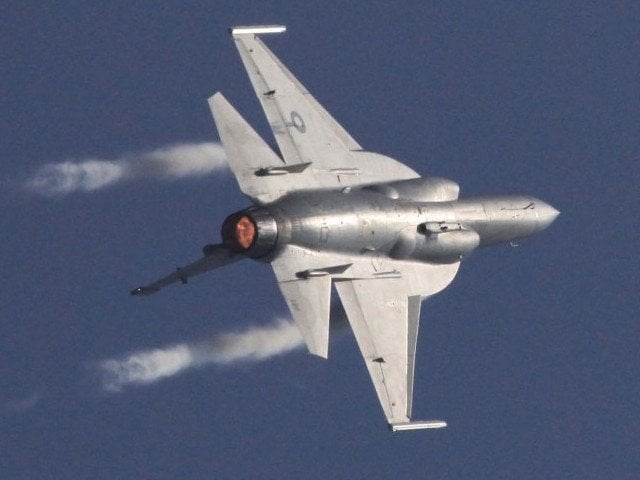 ---
ISLAMABAD: The Pakistan Air Force (PAF) successfully test-fired indigenously developed extended range "smart weapon" from JF-17 multi-role fighter aircraft on Tuesday.

The experiment marked a great milestone for the country as the weapon has been developed, integrated and qualified solely through indigenous efforts of Pakistani scientists and engineers, said a statement issued by the PAF.

"The successful trial has provided JF-17 Thunder a very potent and assured day and night capability to engage variety of targets with pinpoint accuracy," it added.

Pakistan successfully test-fires 'beyond visual range' missile from JF-17 Thunder

Lauding the efforts of Pakistani scientists and engineers, Chief of the Air Staff Air Chief Marshal Mujahid Anwar Khan congratulated the PAF personnel on the achievement of this monumental indigenous capability.




"Pakistan is a peace loving nation but if subjected to aggression by adversary, we would respond with full force," he was quoted by the PAF spokesperson as saying.



The key test comes amid a tense military standoff with India, which was triggered by Indian claims of carrying out air strikes, targeting alleged terrorist camps inside Pakistan on February 26.

A day later, Pakistan retaliated with similar air strikes that led to dogfight, leaving two Indian warplanes downed. Pakistan also captured an Indian pilot but released it within 72 hours as gesture of peace.

However, an internal assessment of the government has now concluded that the threat of further escalation in tensions between the two nuclear-armed neighbours is over.

Threat of further escalation with India over, says senior Pakistani official

The assessment was shared by a senior official on Monday while giving a background briefing to a group of journalists on the current state of relations between the two neighbouring countries.

Last year, the JF-17 Thunder aircraft shot down a slow speed target with BVR (Beyond Visual Range) and IR (Infrared) missile with pin-point accuracy at Sonmiani firing range marking a landmark occasion for the force as well as the whole nation.

The facility, developed in collaboration with Chinese authorities, is equipped with real time tracking and measuring equipment to qualify the indigenously developed and procured weapon systems.
COMMENTS (5)
Comments are moderated and generally will be posted if they are on-topic and not abusive.
For more information, please see our Comments FAQ