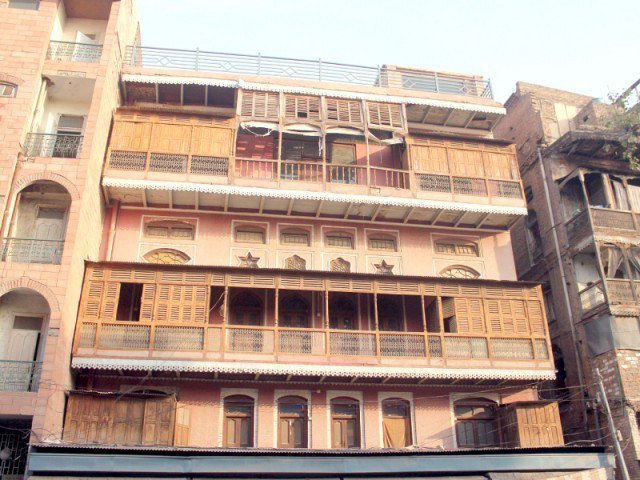 ---
PESHAWAR: Khan Klub - built over 200 years ago in heart of Peshawar city - has started losing its centuries-old architecture due to changing weather, earthquakes and its use as flour warehouses and trading hub.

Once upon a time, Khan Klub resembled a part of some fabled land right out of an ancient tale. Today the boutique hotel — that was actually a Hindu haveli — was enveloped in particles of flour, and looks nothing like it used to.

Once a favourite haunt of visiting foreigners, it was now employed for commercial purposes. The hotel building was now in a shambles and its halls have been turned into a flour godown.

Built over 200 years ago, the place was renovated and converted into a hotel in 1995 by Martin Jay Davis, an Irish-American, in partnership with a local by the name of Inayatullah. It soon emerged as one of the city's most attractive hotels. Its rooms were named and designed according to certain themes, says Adil Zareef, head of the Sarhad Conservation Network.

Located near historic Chowk Yadgar and Balahisar Fort at Hasthnagri, Khan Klub (KK) was home of centuries old civilisations with a traditional craftsmanship, that witnessed the vigour of Mughals and onslaughts of warriors, kings and British who marched to the Subcontinent through the historic Khyber Pass.

Built in the year 1800 at a piece of five-marla land, this four-storeyed boutique style ancient building was in shambles as it was presently being used for trade and commercial purposes having no proper facilities for tourists, culture and art lovers for which it was once famous for.

Its main halls, where foreign and domestic tourists had enjoyed traditional Peshawari music including Rubab with Tabla prior to 2001, have been turned into flour godowns with particles of flour and dust smoke everywhere. Khan Klub with its glorious history accommodated thousands of people, art lovers and tourists by being used as a residence, guest-house and hotel. In 1995, KK was formally converted into full fledged hotel by a local influential Inayatullah Khan with support of an Irish American Martin Jay Davis and soon became the most preferred choice of foreign and domestic tourists due to its beautiful architecture, calmness and ideal location. "Prior to 2001, foreign tourists came here in large numbers to witness and enjoy local tradition, culture and historical monuments in old Peshawar City and to taste variety of foods including traditional Peshawari Pulao, Qahwah (Green Tea), lemon grass tea with an aroma of jasmine , Bengal tea, Kerala coffee and Darjeeling spring bud besides traditional music of Pashtun society," Asif Khan, owner of KK said.

Published in The Express Tribune, March 12th, 2019.
COMMENTS
Comments are moderated and generally will be posted if they are on-topic and not abusive.
For more information, please see our Comments FAQ