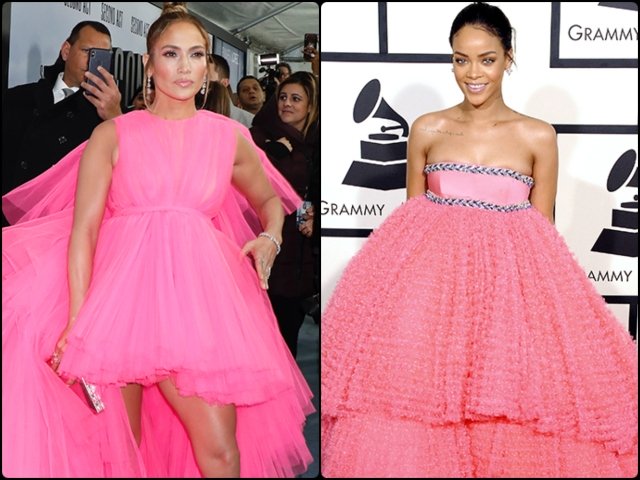 ---
Comparisons between famous personalities are almost always making headlines on social media for different reasons. While some may feel a certain celebrity is the perfect mix of beauty and brains, others may beg to differ. In the same way, their sartorial choices are always in the spotlight too. And, comparing their looks from a private or professional event is not uncommon – especially when two A-listers are spotted sporting the same or similar outfits. Compiled from Hollywood Life, here is a lowdown of popular celebs and the question is: Who wore it better?

Meghan Markle or Kate Middleton




It's a simple but chic outfit. If you want to look smart but casual, there's nothing better than denim and stripes. The 37-year-old royals channeled classic chic on two separate occasions. Meghan sported a striped top with a pair of black pants during her and Prince Harry's trip to Morocco. She completed her look with an olive green jumper and boots.

Meghan Markle, Prince Harry reportedly reveal the sex of their baby




Kate, on the other hand, has been spotted in stripes multiple times. And, from the looks of it, it is her go-to apparel when she is on a casual outing with her kids, heading to the gym or even stepping out for an official visit. However, the mother-of-three accessorises her outfits a tad bit different to Meghan. This time around, she opted for wedges, a semi-formal navy blue blazer and wavy tresses. If we were to choose, she definitely knocked the look out the park.

 Jennifer Lopez and Rihanna




JLo looked stunning in the voluminous, frilly dress as she walked the red carpet at the New York premiere of her film, Second Act. The bright pink number trailed behind her, overflowing with fabric at every turn. The singer paired the bold stylistic choice with silver heels, a high bun and dangling earrings.




While both ladies donned Barbie pink, Rihanna's dress was strapless with silver embellishments along the borders near her chest. Jennifer's dress had a cape that fell down from the top of her back, and the dress stopped at her mid-thigh, as opposed to RiRi's floor-length ensemble. Both women smartly decided to let the dress do the talking with their hair pulled up and out of their faces. Rihanna donned small studs to add the finishing touch. Our vote is definitely for this 31-year-old beauty!

Have something to add to the story? Share it in the comments below.