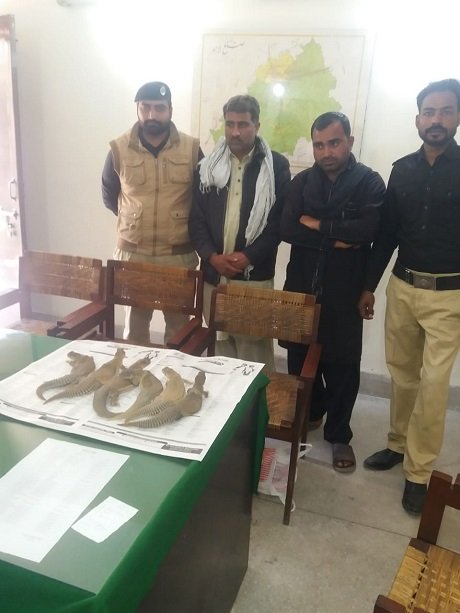 ---
LAHORE: The Punjab Wildlife Department busted a gang involved in illegal trade of selling 'oil of wild lizard' in Lahore on Sunday.

In a raid, the officials arrested two accused -- Sajjad Ali and Ghulam Sabir -- who were involved in the business of extracting oil from the lizards, locally known as "Sanda Oil".

The accused were booked under the wildlife act, said the officials, adding that six lizards had also been recovered from their possession.

The lizards were later handed over to the zoology department of Government Muhammadan Anglo Oriental (MAO) College.

Gruesome extract : 'Lizard oil' vendors continue to thrive

In a separate development, the wildlife officials recovered 50 rare breed of pigeons from Lahore airport.

Under the supervision of District Lahore wildlife officer, Tanveer Janjua, the special squad acted on a tip-off and arrested the accused who were involved in the smuggling of the birds from UAE to Pakistan.

The accused were slapped a Rs20,000 fine for bringing the birds into the country without the import permit.
COMMENTS
Comments are moderated and generally will be posted if they are on-topic and not abusive.
For more information, please see our Comments FAQ