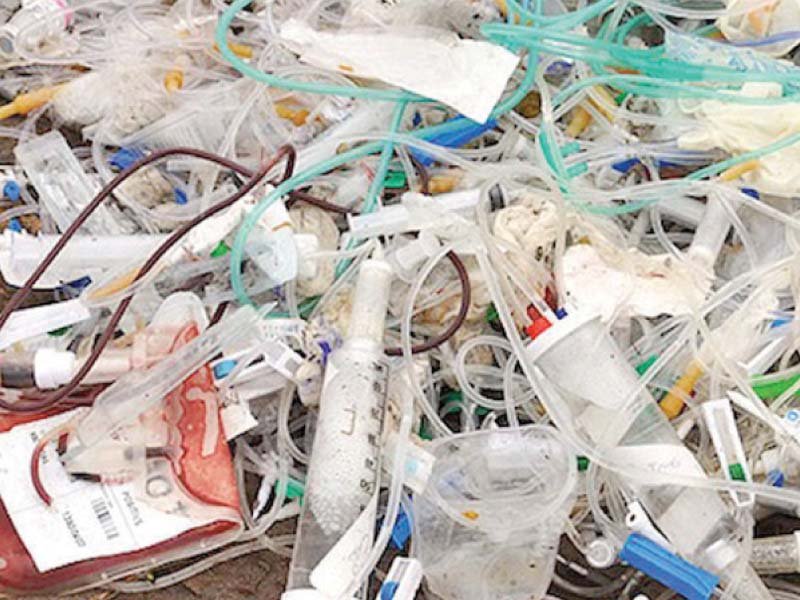 ---
ISLAMABAD: The capital is facing a major problem with regard to the proper disposal of radioactive, genotoxic, infectious, pathological and pharmaceutical residue generated from the city hospitals every day. Only a few hospitals have an incinerator plant for disposing of lethal material while others dump hospital waste material either at garbage bins or sell directly to scrap dealers. It has also been observed that most of the hospitals discard hospital waste in the outskirts of the city.

In a survey conducted by the Environmental Protection Agency (EPA) it was discovered that around 80 per cent of these hospitals had no incinerators and were not adopting proper methods to dispose of their medical waste.

The report of the EPA revealed a number of public and private health facilities were violating the Hospital Waste Management Rules 2005 on safe disposal of hazardous waste, therefore, the agency had issued letters to some 82 hospitals in Islamabad to submit a compliance report however most of the medical bodies did not pay heed and only 33 hospitals started submitting their reports to EPA every month.

Later, The report also stated that EPA also issued summon notices to some 58 hospitals which did not act upon its letter whereas environmental protection orders were also issued to around eight hospitals which were massively posing a threat to the environment. Thus, only a single hospital was facing adjudication in the tribunal.

Further, the report disclosed that there were no allocated land-filled dumping sites for disposing hospital waste in the city or outskirts which was allocated by the government however the EPA requested the Capital Development Authority (CDA) and Metropolitan Corporation (MC) Islamabad to allocate a land-filled dumping site, as early as possible, where the hospital waste could be dumped.

As per a survey conducted by the EPA in 2015, myriad tons of lethal and injurious waste was disposed in the open air from different clinics, hospitals, and laboratories, government or privately-run, in Islamabad every day. Interestingly, apart from a few hospitals in the capital, the rest of them were operating without a waste incinerator plant.

The survey report disclosed that on daily  basis , some 550 kilograms from KRL Hospital Islamabad, 150kg to 200kg from Pakistan Institute of Medical Science (Pims) , 600 Kg from Shifa International Hospital, 150 Kg from Kulsoom International Hospital, 250kg 400kg from PNS Hafiz Naval Hospital , 400kg from the Islamabad Medical Complex, 700kg from Pak hospital Bara Kahu, 550kg from Pakistan Atomic Energy Commission General Hospital, 50kg from NIH Chak Shezad, 40Kg from Nori Hospital, 400Kg from Quaid-e-Azam International Hospital of waste was dumped inappropriately.

Further, waste is also disposed of from different laboratories and dispensaries on monthly basis such as 750kg from Excel Labs, 25Kg from City Lab, 150Kg from Rawal General and Dental Hospital ,250Kg from Hassan Dental Care Centre , 55kg from Family Health Hospital, 22kg from Islamic International Lab, 70kg from CDA hospital, 40kg from Ali Medical Center, 75kg from Maroof international Laboratory, 150 kg from Medex Hospital and 20 kg from Islamabad Diagnostic Center.

Published in The Express Tribune, March 10th, 2019.
COMMENTS
Comments are moderated and generally will be posted if they are on-topic and not abusive.
For more information, please see our Comments FAQ