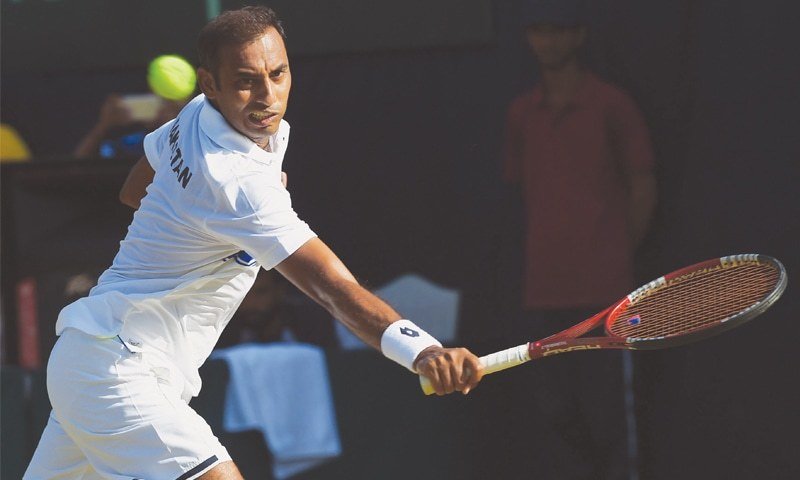 ---
PESHAWAR: Pakistan tennis champion Aqeel Khan won the Khyber-Pakhtunkhwa Open Tennis Championship after defeating Barkat Ullah in the final of the men's singles on Friday.

Khan and Barkat Ullah enthused crowds with a display of powerful forehands, cross-court smashes and some beautiful and speedy aces. Aqeel Khan took the first set 6-3 wherein Barkat Ullah raced up from 3 games down by levelling the tally 3-3 before Aqeel won the battle.

Barkat claimed the second set after some attractive baseline shots. However, Khan claimed the third and final set 6-2 with some clinical backhand and forehand shots.

Following the match, Khan commended the tournament organizers, KP Tennis Association, for the event which drew many partakers. He said there is no dearth of talent in Khyber-Pakhtunkhwa and if provided due support they can win at national and international levels.

K-P govt orders upgrading of sports complexes

In the Under-14 final, 3rd seeded Kashan defeated Hamza Roman, the top-seeded player and Pakistan No 1, in the semi-final and recorded victory against second seed Uzair Khan in the final by 6-3, 2-6 and 6-4.

The marathon final between Kashan Umar and Uzair Khan lasted two hours. The young duo also recently represented Pakistan in Sri Lanka Open.

In the men's doubles event Shoaib Khan and Asad Ullah defeated Ejaz Akhtar and Barkat Ullah by 6-2, 3-6 and 6-3.

Earlier, Shaoib Khan and Asad Ullah beat Shakir Ullah and Yousaf Khalid by 6-3 and 6-2 while Ejaz Akhtar and Barkat Ullah recorded victory against Saqib Umar and Abbas Khan by 6-2, 1-6 and 6-3.

In the above 34-year age Shahid Afridi and Shaheen Mehmood beat Israr Gul and Janzaib by 6-2, 4-6 and 7-6 (6-6).

Umar Ayaz, Secretary KP Tennis Association revealed on the occasion that this a total of 160,000 cash prizes have were distributed from the quarter-finals to the final of each of the category comprising Men's singles, Men doubles, Under-14 and above 34-year of age category.

Further, he disclosed that players, including Shah Sawar Khan and Roman Gul have been short-listed for the Sri Lankan international event and will be competing in the national trials as well.