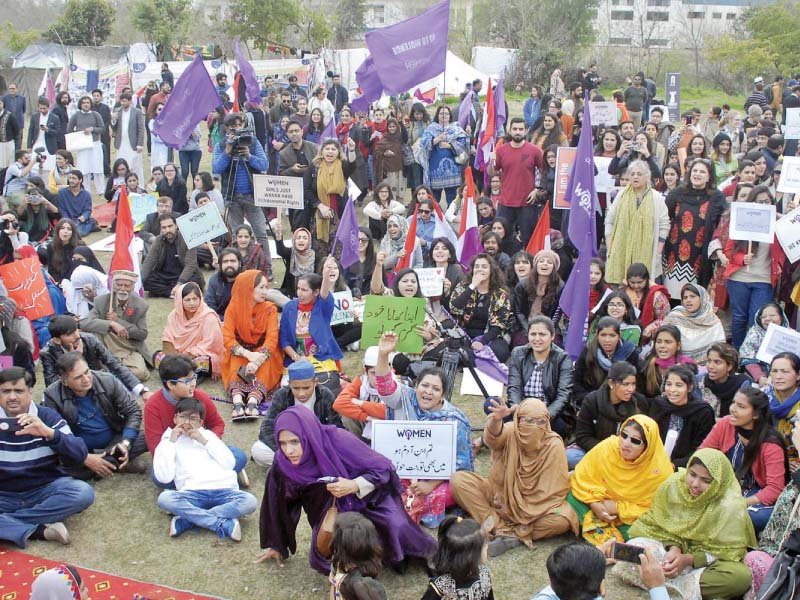 ---
RAWALPINDI/ ISLAMABAD: In an ironic twist of fate, one man was hailed a hero during the signature march on women's day called 'Aurat (woman) March' in the federal capital on Friday.

The man in question was Afzal Kohistani. The Kohistan native had in 2012 blown the whistle on a case of honour killing where at least five women had been killed following a decision by a jirga because a video showing them singing and two men dancing was leaked.

Late last year, over six years after the incident and owing to Kohistani's pursuit of justice in the case, all nine men responsible for killing the women, were arrested.

But two days ago, Kohistani was gunned down in Abbottabad.

As women's rights activists — women and men — gathered outside the National Press Club in Islamabad on Friday afternoon ahead of their annual coordinated march, they condemned Kohistani's murder.

"This incident has brought to the focus, once again, how vulnerable those that raise their voice still are," said Benazir Jatoi, a human rights lawyer and march organiser.

Witness protection was "almost non-existent", she added, suggesting that this key legal loophole could have ultimately claimed Kohistani's life, just as it had done of his three brothers previously.

"Today's march in Islamabad will remember Afzal and other brave Pakistanis like him and we will that perpetrators be held accountable," Jatoi said.

"Will be raising this shocking murder of Afzal Kohistani in parliament," opposition leader Sherry Rehman tweeted who later joined the march and demonstration in favour of women's rights in the capital.




Aurat march

A large number of women and men came out for the Aurat March in the federal capital to celebrate International Women's Day. They held up placards, charts and banners.

The women held up banners with slogans such as "respect existence or expect resistance", "Yes, I am a Feminist. No, I don't hate men", "not your izzat (honour)", "our liberation is intersectional, intergenerational and inclusive", "legislate to liberate", "Paratha rolls not gender roles", "If we (women) do it is 'mujra' (dance) but if you (men) do it is 'disco'?", "Liberation from bad men is liberty from headaches", "Worry about freedom, not my marriage", "I do not know where your socks are" and others which challenged the patriarchy and challenged the gender roles assigned to women in our culture.

Some of the men who joined the march also held up placards in support of women "lets together make dinner" and "I march for women rights". The crowd then marched around the F-6 Markaz, demanding recognition of their physical, mental and emotional labour.

"[The march was held to] heal collectively from the wounds inflicted on us by capitalism, patriarchy, militarism, religious fundamentalism and imperialism," said Tooba Syed of the Women Democratic Front, one of the organisers of the march.

Other groups and movements who participated in the march included the Ending Violence Against Women and Girls (EVAWG) alliance, students, political workers, advocates, filmmakers, musicians, domestic workers, teachers, and health workers, and even acid burn survivors.




The participants demanded an end to violence against women, legislation which protects their rights, guarantees equality and minimum wage and other legal protections for the informal sector, regularisation of teachers and health workers, greater investment in health and education particularly for women, removal of restrictions on student politics and end to curfews in hostels, more hostels for women and daycares for the children of working women, construction of low-income housing and an end to the campaign against informal settlements.

As dusk fell, a candlelight vigil was held to honour those who raised their voices for the rights of women and girls.

Balance for better

The day was also marked by Hashoo Group in the federal capital with the global theme of 'Balance for Better'. Women and men at Hashoo Group's corporate office in Islamabad and the Marriott Hotel and Pearl-Continental Hotel in Rawalpindi gathered to listen to talks from women and men in leadership roles.

In Rawalpindi

Apart from a host of women's day related events in Rawalpindi, the Higher Education Commission (HEC) organised an event at the Fatima Jinnah Women University (FJWU) to celebrate the achievements and success stories of the student's scholarship recipients of USAID Funded Merit and Need-Based Scholarship Programme. The event honoured all the girls who broke barriers to achieving their goals.

FJWU Registrar Prof Samina Bukhari said that if women want to do something, they can do it. She further said that to be confident about oneself, they must listen to their inner voice, understand and follow those.

She asked the students to follow their dreams and do not accept what people say because you cannot change people, you have to improve and change yourself to become a successful woman.

Published in The Express Tribune, March 9th, 2019.
COMMENTS
Comments are moderated and generally will be posted if they are on-topic and not abusive.
For more information, please see our Comments FAQ