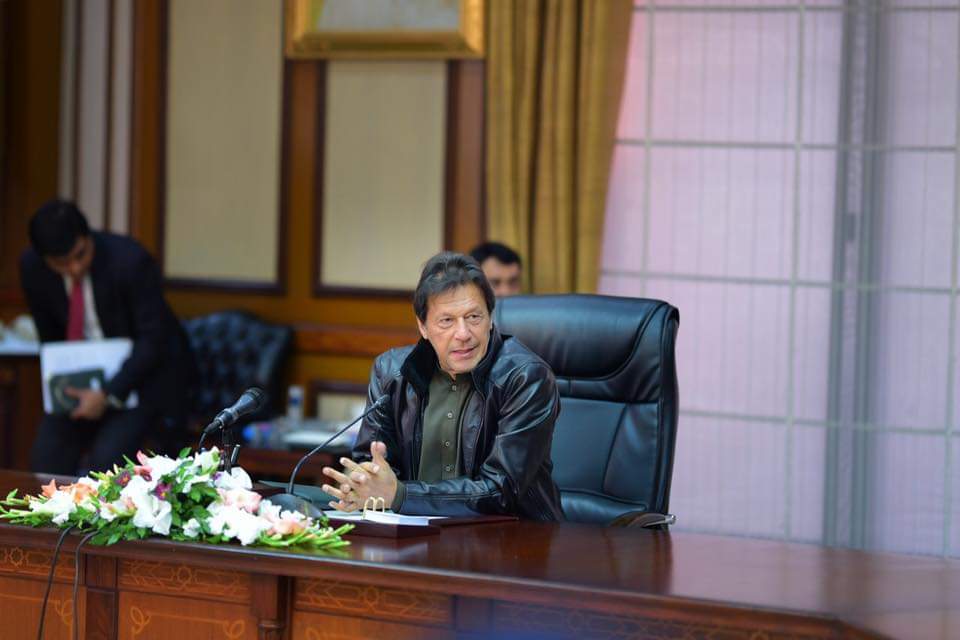 ---
HYDERABAD: Prime Minister Imran Khan has reiterated the Islamabad's desire for peace, but made it clear that the country's armed forces and people are fully prepared and would fight till the end to protect the nation's independence and sovereignty.

"Be it India or any [other] superpower, if anyone wants us to be subdued, we and our armed forces would fight to the end. Our people, as well as the armed forces, are fully prepared," Imran Khan said on Friday while addressing a large public meeting at Chachro town of Sindh's Tharparkar district.

He said Pakistan desires peace and has also sent this message to New Delhi time and again. "We also handed over to India their [captured] pilot, because we do not want war, and also offered Pakistan's cooperation to India after the [February 14] Pulwama incident."

The premier, however, categorically stated that no one should have any misunderstanding that it was due to any fear. "This is a new Pakistan and we want poverty alleviation."

Khan said after coming to power, he talked to Indian PM Narendra Modi and told him that the subcontinent faces highest levels of poverty in the world, and that all issues should be resolved through dialogue. But I did not know that Modi will do all this after launching his election campaign, he added.

Addressing the Indian prime minister he said: "If you (Modi) indulge in any bloodshed of Pakistanis to win the [upcoming] elections, there should not be any misunderstanding, we will retaliate."

Imran Khan said since he was born in an independent Pakistan as against his parents who were born in a slave India, his parents never let him forget this fact.

"When I describe Tipu Sultan as our hero, it is because of the fact that Tipu opted to fight for independence till his last blood, whereas [last Mughal Emperor] Bahadur Shah Zafar surrendered and accepted slavery," he said.

Khan said all political parties had agreed as part of 2015 National Action Plan (NAP) that no armed group would be allowed to operate in Pakistan but the plan could not be fully implemented until recently.

"There are people among these groups which have done welfare works, they shouldn't worry ... I know there are groups whose militant wings have already ended but we are part of the international community and we will not allow any militant armed group to function here," he added.

The premier was taking with reference to the government's recent crackdown against proscribed organisations. The government on February 22 imposed a ban on Hafiz Saeed's charity organisations – Jamaatud Dawa (JuD) and Falah-e-Insaniat Foundation (FIF) – 'as part of the NAP' and later launched a country wide crackdown against the group, taking over its properties and outlets across the country.

The crackdown took place in the wake of escalation of tensions with India after February 14 Pulwama attack in Indian occupied Kashmir (IOK). Indian had accused Jaish-e-Mohammad (JeM) group which it alleged operated from Pakistan. Islamabad had denied the claim and sought evidence.

Taking a jibe both at Narendra Modi and his political rivals in Pakistan, the PM drew a parallel between the sub-nationalist character of Pakistan's political parties and Modi's strand of religious discrimination.

"In Pakistan, some parties divide the country in the name of Pakhtuns and Balochs. And in Punjab when they [Pakistan Muslim League-Nawaz] get into some difficulty, they raise the slogan of jag Punjabi jag [wake up Punjabis wake up].

"When Sindh's rulers get caught in corruption cases they start to play the Sindh Card. Unfortunately, Modi politics is the same, based on dividing people and spreading hatred," he said.

Khan specifically referred to Altaf Hussain, former chief of the Muttahida Qaumi Movement (MQM), and accused him of destroying Karachi by dividing it on racial basis.

"One man spread hatred for power. He gathered the people and got vote by spreading hatred against other people." He said if that ethnic strife had not beset Karachi for decades, the city would have been competing with Dubai in terms of prosperity and development.

In a rejoinder to the Pakistan Peoples Party's (PPP) Chairman Bilawal Bhutto Zardari's speech in the National Assembly, Khan said a person cannot become a leader by changing his name. He said Sindh's ruler was not familiar with ordeals and challenges of the political struggle.

"How did he [Bilawal] become a leader? He changed his name from Zardari to Bhutto. The leaders aren't made through a piece of paper but through the struggle."

He went on to criticise Bilawal's NA speech saying a majority of people in Pakistan do not understand English in which he spoke. According to him, many MNAs especially from the PML-N and Jamait Ulema-e-Islam-Fazl, could not understand him.

"Their confusion was reflected in Namaz which they offered in the wrong direction [after his speech]," Imran said in a reference to the recent offering of prayers inside the assembly hall for the first time.

Khan again advised Bilawal to cultivate the ability of taking U-turns because, according to him, the leaders who have been through the cumbersome phases of political struggle know well the utility of making radical changes to the plans and policies.

"If you and your father [Asif Zardari] understood it well, you wouldn't have been in trouble today," he said, adding that it would have been a watershed 'U-turn' if the PPP had desisted from corruption after coming into power in 2008. "But now your father has trapped you. Your name has also surfaced in the fake accounts case," he added,

Khan said the Indian Muslims and other minorities now realise that Quaid-e-Azam Muhammad Ali Jinnah was right to launch a struggle for a separate country because he had sensed the religious discrimination which the Congress was going to unleash. He said the religious minorities in India are persecuted and even a report of the United Nations has acknowledged the same.

"However, my government stands with the Hindu community. We will not allow any injustice to happen to them," he assured while pointing out that around half of Tharparkar population comprises Hindus.

On the occasion, he announced to launch the PM health card scheme in Tharparkar. Under the programme, 112,000 families will get health cards and each family could avail free medical treatment in any hospital for up to Rs720,000.

He announced that the federal government would provide two mobile hospitals, four ambulances and 100 solar-powered reverse osmosis plants in Tharparkar.
COMMENTS
Comments are moderated and generally will be posted if they are on-topic and not abusive.
For more information, please see our Comments FAQ