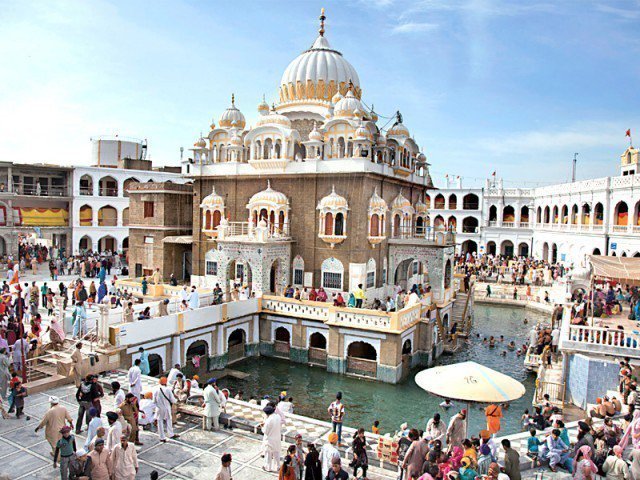 ---
LAHORE: Preparations to celebrate the 550th birthday of Baba Guru Nanak are being completed in the provincial metropolis.

Instructions have been issued to the ministries concerned to issue commemorative coins and tickets. The Indian Sikhs will be given visas which are greater in number to the one which was mutually agreed between India and Pakistan.

As part of the preparations, a tent city will be built in the Janam Asthan Nankana Sahab. The first phase of construction of the Kartarpur Corridor will be completed by September 2019.

Sikh pilgrims cleared for ten-day visit visa for Pakistan

Talking to Express News, Evacuee Trust Property Board (ETPB) Secretary Tariq Wazir Khan said that construction of the Kartarpur Corridor is continuing rapidly. The first phase would involve constructing the infrastructure of the main road.

He further said that the langar hall in Janam Asthan Nankana Sahab will be of two storeys. The joota ghar or house of shoes would be shifted to another location. A land route is also being established to escort Sikhs from railway stations to Janam Asthan.

Additional rooms are being built in Hassan Abdal Gurdwara Panja Sahib as part of the process. A maximum amount of work is being completed at the karsewa in Gurdwara Dera Sahib Lahore and residential blocks are being constructed here.

As a result, as many as 5,000 pilgrims will be able to stay here at one time. An official maintained that instructions regarding the commemorative coins and tickets were given on the orders of Prime Minister Imran Khan and Federal Minister for Religious Affairs Dr Noorul Haq Qadri.

Sikh community 'soldiers of Pakistan without uniform'

Janam Asthan Nankana Sahib will be inscribed on the one side of the commemorative coin and the 550th birthday celebrations on the other. Replying to a question, an official stated that 3,000 Indian Sikhs pilgrims can come to Pakistan under the mutual agreement between India and Pakistan to celebrate the Birthday of Guru Nanak Sahib.

However, it was decided that for this year, all yatrees who will apply would be granted visas. Arrangements of security, food and accommodation were being completed for 100,000 Sikh Yatrees on the 550th birthday of Guru Nanak.

Published in The Express Tribune, March 9th, 2019.