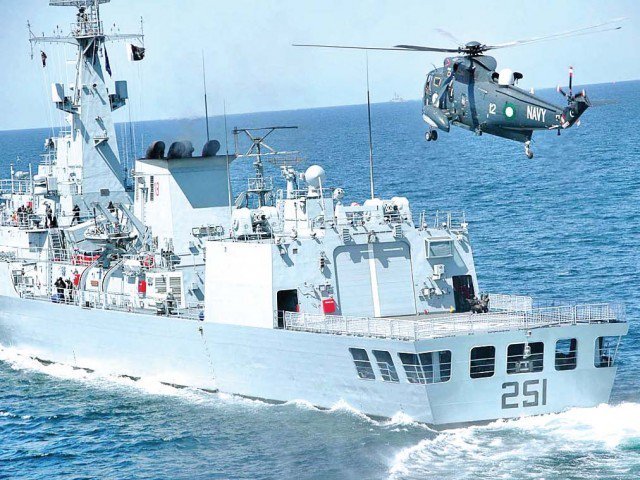 ---
Chief of the Naval Staff Admiral Zafar Mahmood Abbasi on Friday said the Pakistan Navy is ready to guard its territorial waters and fully capable of responding to any kind of aggression with full force.

"We are a peaceful country and don't want any hostilities. However, we will give a befitting response if the enemy initiated any such act against us," he said while addressing the naval troops after visiting the forward checkposts and naval installations.

The naval chief also visited Pakistan Navy fleet stationed at the northern Arabian Sea, said a statement issued by the navy. He was given a detailed briefing on operational preparedness of the country's naval forces.

Admiral Abbasi met officers and personnel of the force and lauded their operational preparedness and high morale. He also directed the troops to be prepared at all times owing to current circumstances.

Navy thwarts attempt by Indian submarine to enter Pakistani waters

He said the act of locating an Indian submarine in Pakistani waters in time was a testament to Pakistan Navy's operational preparedness and professionalism.

"Our unwavering faith, courage and passion for defending the motherland give strength to our superior capabilities," he stated.

Earlier this week, the Pakistan Navy thwarted an attempt by an Indian submarine to enter Pakistani territorial waters. The incident happened after an increase in tensions between the two nuclear-armed neighbours.

This was the second time since November 2016 that naval forces have caught the Indian Navy trying to enter the country's territorial waters.

CJCSC visits Naval Headquarters

Meanwhile, Chairman Joint Chiefs of Staff Committee (CJCSC) General Zubair Mahmood Hayat visited Naval Headquarters amid escalating tensions with India, said a press release issued by Directorate of Public Relations of Pakistan Navy.

Upon arrival at the Naval Headquarters, he was received by Admiral Abbasi. Later, the CJCSC was given briefings on operational preparedness of Pakistan Navy. He expressed satisfaction over operational readiness of the naval forces.
COMMENTS
Comments are moderated and generally will be posted if they are on-topic and not abusive.
For more information, please see our Comments FAQ