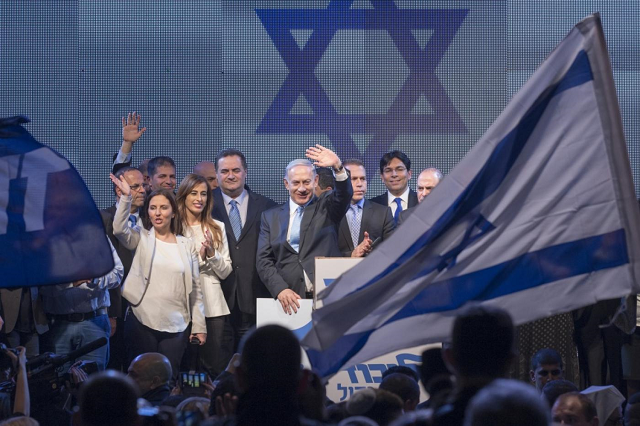 ---
JERUSALEM: Here are some of the main issues in the campaign for Israel's April 9 general elections:

The current elections are not just about the usual big issues - peace, war and the economy - but also the legitimacy of incumbent premier Benjamin Netanyahu, who is facing a pre-indictment hearing on corruption charges that could lead to his eventual imprisonment.

Netanyahu claims to be a victim of a legal and political "witch hunt" and vows to prove his innocence in the hearing.

Netanyahu defiant after decision to indict him ahead of polls

While many of his supporters sympathise with the veteran leader, his Likud party is trailing the centrist Blue and White alliance led by former military chief of staff Benny Gantz and ex-finance minister Yair Lapid in opinion polls.

Israeli politics has moved firmly to the right in recent years and much of the campaign has seen Netanyahu seek to brand his Blue and White opponents as "weak" leftists.

The centrist alliance has in turn brandished its security credentials - it includes three former military chiefs of staff.

Netanyahu has claimed Blue and White would make signficant concessions to the Palestinians.

Gantz says his alliance wants to separate from the Palestinians, but without sacrificing any of Israel's security needs or retreating from the major settlement blocs in the occupied West Bank.

Security is always a major issue in a country that has fought repeated wars, and debate over who is truly of the political right goes hand-in-hand with that.

Israeli election monitor blocks Arab party, clears far-rightists

A recent poll by the Israel Democracy Institute think tank found that a quarter of Israelis say their primary consideration in voting is the party's socio-economic positions.

Netanyahu has overseen a growing economy, but the cost of living remains high in Israel and is an important concern for many.

Flaws in Israel's public health system have also recently come to light in the form of shortages in hospital beds this winter, with Labour and other parties vowing to amend the situation.
COMMENTS
Comments are moderated and generally will be posted if they are on-topic and not abusive.
For more information, please see our Comments FAQ