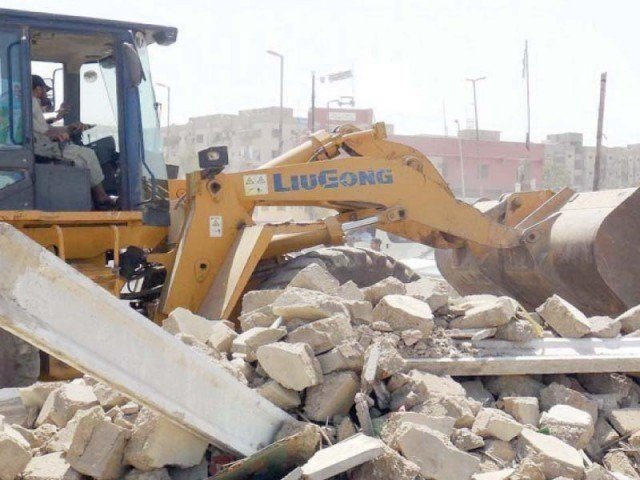 ---
KARACHI: East District Municipal Corporation (DMC) claimed on Thursday that it has razed hundreds of unauthorised and illegal structures during the anti-encroachment operations that it has been conducting for the past three months on the directives of the Supreme Court (SC).

The operations were conducted under the supervision of East deputy commissioner, East DMC Chairperson Moeed Anwar, Municipal Commissioner Akhtar Sheikh and Director Zahideen Khalil. Heavy machinery was used to demolish encroachments at Rashid Minhas Road, Sharae Quaideen, University Road, Sir Shah Muhammad Suleiman Road, Khalid Bin Waleed Road and other streets, parks and playgrounds.

According to the report, more than 1,700 encroachments of car showrooms on footpaths were removed while more than 900 illegally constructed walls, which had been constructed outside shops and homes and were obstructing the flow of traffic, were also demolished. More than 100 shops were demolished while another 250 cabins were bulldozed. Around 700 iron grills were removed along with barriers and other encroachments. An estimated 700 cabins were also razed along with more than 100 illegally constructed tandoor and hotels.

The report further said that the encroachments at Jamaluddin Afghani Park, Aisha Park, Osmania Park, and the playground in National High School were removed. The DC supervised large-scale operations from Maskan to Disco Bakery and from Noorani Kebab House to Sharae Quaideen, Rashid Minhas Road to Disco Bakery, Khudadad Colony on Sharae Quaideen, Mazar-e-Quaid to Khudadad Colony and on Khalid Bin Waleed Road where long-standing encroachments were finally done away with.

Published in The Express Tribune, March 8th, 2019.
COMMENTS
Comments are moderated and generally will be posted if they are on-topic and not abusive.
For more information, please see our Comments FAQ