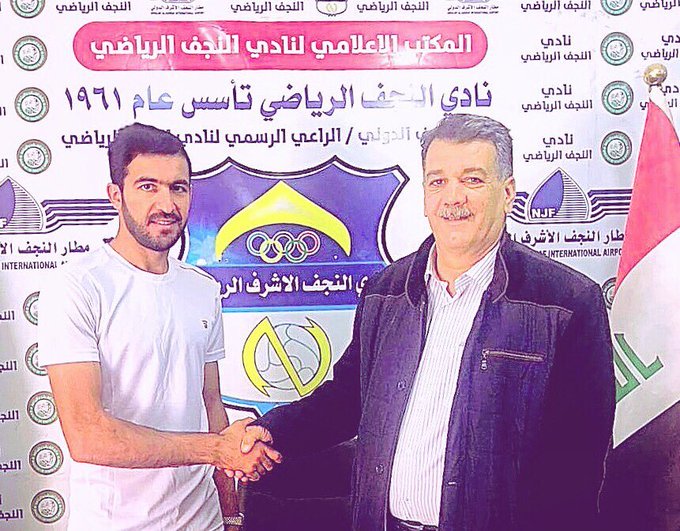 ---
KARACHI: Pakistan's top striker Kaleemullah confirmed that he is training with Iraq's Al-Najaf FC as he has joined them after a Rs5m deal for four months.

The 26-year-old had been playing in a Turkish league with Igdirspor, an amateur league, earlier after finishing up with Major Soccer League team Tulsa Roughnecks and before that he played for Sacramento Republic in the US.

Kaleemullah had also been among the first players along with Muhammad Adil to sign up with a foreign club, FC Dordoi, after proving their worth in Pakistan's domestic league and playing for the national side.

"It's a new club, new coach, new players, it is a new challenge for me," Kaleemullah told The Express Tribune from Najaf. "This is probably the best opportunity for me in my career. This is going to be their second phase in the league, so the first match will take place soon. I'm hoping to prove my skills here too. I want to play in Gulf countries, in the US, Europe and Russia2."

He continued: "My ultimate dream is to play for a club whose match even Pakistani football fans can watch. I want to be in such a club that Pakistanis follow too."

While Kaleem cleverly phrased his utmost desire to play at the biggest leagues in the world, he feels that coming to Al-Najaf is a step in the right direction, an opportunity that he did not want to miss and regret afterwards.

Al Najaf had finished sixth in the last edition of the Iraqi Premier League, and the club also played at the Asian Football Confederation Champions League in 2007.

Kaleemullah believes he would learn more about professional football in Iraq and he has high hopes to impress the fans too.

"Iraqi football fans are great. Football is the national sport in Iraq, the culture of football here is inviting, I've been received with open arms," explained Kaleemullah.

He added that Al-Najaf coaches saw him play for 30 minutes at a match in Turkey, where he was invited to participate in.

"They saw me for 30 minutes, that is it and they asked if I wanted to play for them," said Kaleemullah. "In Pakistan, the head coach said I wasn't fit enough so he axed me out of the national team, but I see how things are different abroad, how professional coaches work. At first they told me that the deal can be of Rs4m, but I requested for more and they agreed."

The former Khan Research Laboratories (KRL) striker has come a long way from playing in the streets of Chaman.

"When we were young, we could only dream of playing football abroad, for big clubs. I didn't know anything about professional football in reality till I got my first break to play for FC Dordoi in 2014. It is thanks to our former national coach Zavisa Milosavljevic that he got us to Kyrgyzstan first, and then the doors opened. Now with my journey I want the young Pakistani footballers to know that they have a future. They can carve their way to the top with hard work.

He continued by ruing the opportunities forwarded by the Pakistan Football Federation (PFF). "But I know it is the opportunities that are limited because the PFF never worked on developing the domestic leagues, stadiums or on grooming the academies which can spell bright future for the footballers. There are players in the domestic set up stuck to play the game for only Rs10,000. How can you have professional players coming up without any avenues for them to prove their talent?"

He added that there may be better players than him in Pakistan, but the opportunities are not available to them.

Hurdles faced en route Iraq

Getting to Iraq was not easy for Kaleemullah. The Makhdoom Faisal Saleh Hayat-led PFF tried to stop his transfer to Iraq in order to punish him for speaking the truth.

Kaleemullah was also wrongly chastised by the PFF last year in September for simply demanding a more professional approach by the federation.

He was threatened by the then PFF vice-president Sardar Naveed Haider Khan, who accused Kaleemullah for being 'unpatriotic' and 'greedy to be playing in Turkey instead of being at the national camp'.

Whereas PFF's second version of Kaleemulllah's exclusion from the national side was that he was unfit, according to the Brazilian coach Jose Antonio Nogueira.

The team played at the South Asian Football Federation (Saff) Cup last year, while the U23 squad went to the Asian Games with three senior players.

Khan is also there with the newly elected body that took over the PFF in December after the Supreme Court-ordered elections, which Fifa and AFC do not recognise.

The international bodies are still backing Hayat, who will be running unopposed for the AFC vice-presidency.

The PFF had given Kaleemullah a show-cause notice for simply calling out PFF's unprofessional approach.

"They tried to stop me yet again," said Kaleemullah. "They wrote to the Iraqi football association, they also tried to pull string through AFC, only to find out they can't stop me like this. I had some difficulties with the visa too, but I am grateful that all got sorted in time for me to be with my new club.

"I could have never imagined that Hayat would stoop so low, that he would try to stop a player from progressing. All I want is to play for my country. Our national team can't participate internationally because of Hayat's politics, now he wanted us to not to play at club level too. It was disappointing for me, very hurtful too. But I'm glad I'm out of their clutches."

In an interview earlier this year, Hayat had called Kaleemullah a 'has-been'.

"He would refer to me as if my career is over and they wouldn't have me in the national team. I just want them to see that I'm here representing Pakistan, in my own capacity," said Kaleemullah.

Meanwhile, Pakistan has also withdrawn from the AFC U23 Championship qualifiers this month.
COMMENTS
Comments are moderated and generally will be posted if they are on-topic and not abusive.
For more information, please see our Comments FAQ