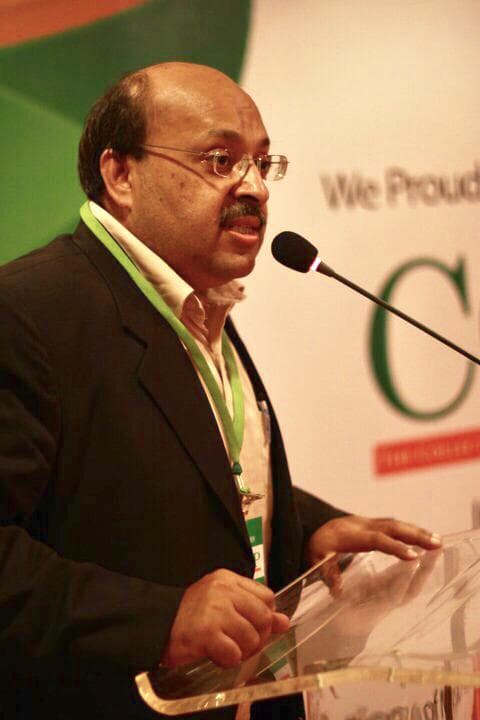 ---
KARACHI:
Umer Sheikh was a man of many talents. He knew how to sell music and when to not talk about selling music with an artist as sensitive and reclusive as the late Aamir Zaki.
Every musician, young or veteran would reach out to Sheikh for matters of much concern; understanding Pakistan's confusing copyright laws or how to save a band that's falling apart.  He was very much the nucleus of music business in Pakistan and even last week a bunch of musicians met him to seek advice and more importantly, listen to his anecdotes.
[iframe src="https://www.youtube.com/embed/r-hbFafLhsQ" width="100%" height="500"]
Sheikh passed away on Tuesday leaving friends and family in a state of shock. He was 55 years old and is survived by two sons and a widow.
Umer Sheikh joined the EMI after the company's new management took over in 1992. He worked as an expert on legal affairs and music publishing before the company suspended its operations four years later. During his initial tenure with EMI and after that in his solo capacity, Sheikh launched a number of artists who are now given the legendary status in our pop/rock history. Junoon's debut with the album Talaash was made possible by Sheikh, who saw in these young kids a promise of a brighter future.
"He was the cheer leader of Pakistan's music industry and saw the spark in Junoon when no one saw it," recalls Salman Ahmed, "Lots of emotions welling up in me right now. May his soul be surrounded in infinite grace, abundance and peace."
In 2017 when Aamir Zaki passed away, Sheikh gave me a frantic call saying how he should have worked longer with Zaki and stayed in touch with him. "Only if Zaki would let anyone help him he could have done wonders. Zaki was such a soul who'd not go for a business meeting just because his cat wasn't doing well."
[iframe src="" width="100%" height="500"]
 There was a sense of regret and empathy in his tone as if the onus of Zaki's early decline was on him. This impression of Sheikh as a very kind and caring soul was common knowledge in an industry that was small and severally divided. Perhaps his kindness united them all. Be it Awaz or Ali Haider, Sheikh had something or the other to add to their portfolio or understanding of music and music business.
"He was a very nice and humble soul who never took credit for anything but was very much the ladder to success for every artist," says Zeeshan Chaudhry, Sheikh's mentee and CEO of EMI Pakistan. After EMI shut its operations in Pakistan, Sheikh went on to work with NTM and Indus TV where he helped a number of new acts such as Ali Zafar to make it big.
"Sheikh served his life for the betterment of our music industry," says Zafar.  Such people work behind the scenes and rarely receive any credit up-front like we so called 'stars' do. But I feel they are the real heroes. I would always be in indebted to him for his help during the start of my career and his kindness towards me always. May God bless his soul."
[iframe src="https://www.youtube.com/embed/eViZM66ywE0" width="100%" height="500"]
 Zeeshan Pervez of Sajid & Zeeshan remembers him as a risk-taker who made sure their debut album 'Light Year at Snail's Speed' got a release back in 2006. "I had a brief interaction with him but was happy to see him release a mainstream English album at a time when his entire catalogue was focused on classical music," says Pervez.
After laying down the foundation of a new and much bigger music industry along with Ghazanfar Ali, Sheikh joined EMI Pakistan in 2006 as the CEO. Though EMI Pakistan's catalogue of new music was limited, Sheikh went onto released niche albums such as a kid's album called Ray Sae Chali Rail.
"He was the king of content making and his down to earth attitude made you agree with his ideas," remembers Khalid Anam, who sang Ray Sae Chali Rail. Bunny, the man behind hits such as Dil Mein Tum and Raasta Naya had similar sentiments to share about Sheikh. "Umer didn't have a single mean bone in his body," says Bunny in his rather husky voice. "As far as his work is concerned, I don't think the industry has seen a better music executive than him. He specialised in copyrights and came up with a framework that made the procedure much fluid and simpler which was amazing," says Bunny.
[iframe src="" width="100%" height="500"]
 In 2011 Sheikh left EMI and formed The Collective Organization for Music Rights in Pakistan (COMP). The organisation was meant to ensure the implementation of copyright laws in Pakistan and provided a roadmap that stakeholders such as the radio channels could follow.
Emu of Fuzon knew Sheikh since 1996 and will forever be in his debt for helping release their debut album Saagar in India. "His contribution to the industry is immense. The Indian labels took us seriously because of his work ethic and understanding of the music business," says Emu. There may have been instances where Sheikh was exploited, says Emu but that will only contribute to the kindness he showered over the entire industry.
Beyond being the face of EMI and the music executive that the industry has already started missing, Sheikh was mentor to a number of artists including the very new lot of the Battle of the Bands (BoB). In fact, Sheikh was the point person for talent hunts such as Pakistani Idol and BoB and every mother channel or brand executive would reach out to him for suggestions.
[iframe src="" width="100%" height="500"]
"I randomly received a call from him after reaching the final four of battle of the bands," Bilal Ali of Kashmir tells The Express Tribune. "He told us why bands break and why we should keep on doing what we were doing and since then he kind of became a mentor."
Sheikh left the industry too soon.
Have something to add to the story? Share it in the comments below.